20 Best Food to eat in Penang
One of the best food haven in Malaysia.
Penang is famously known for is its delectable mouthwatering local street food. Here are 20 of our recommendations of things to eat in Penang!
Here is our list of things to Eat in Penang:
Starting off with Assam Laksa which is one of the most iconic Street foods in Penang. 
Assam Laksa consists of laksa noodles, served with Mackeral fish broth cooked with tamarind and garnished with fresh mint leaves, sliced onion, bunga kantan (torch ginger), chilies, and a spoon of shrimp paste.
All these ingredients put together, you get a lovely sweet, tangy spicy bowl of Assam laksa, and not to mention, the dish looks absolutely stunning with all the colors.
We had our Assam laksa at Laksa Bisu in Air Itam wet market, which is a local's favorite go-to spot for Asam Laksa. And the second spot was at the New Lane Hawker center, right at the center of George Town.
Where we ate:


 New Lane Hawker Centre (New Lane Hawker Street)
Address: Lorong Baru, George Town


 Laksa Bisu @ Air Itam Food Court (Air Itam Annex Food Court)
Address: Pekan Ayer Itam, 11500 Air Itam, Penang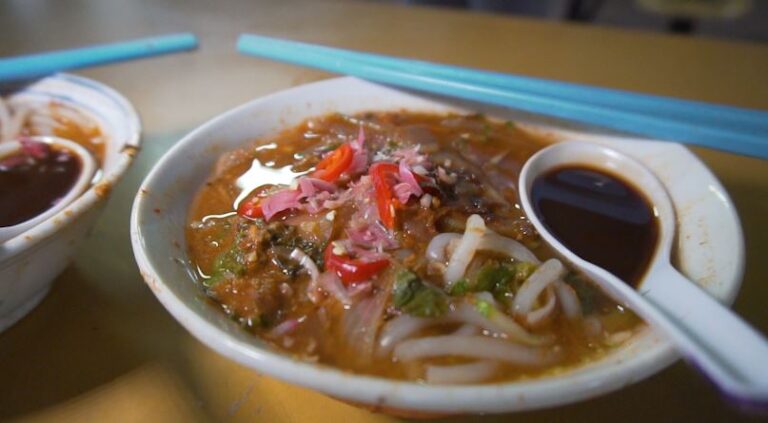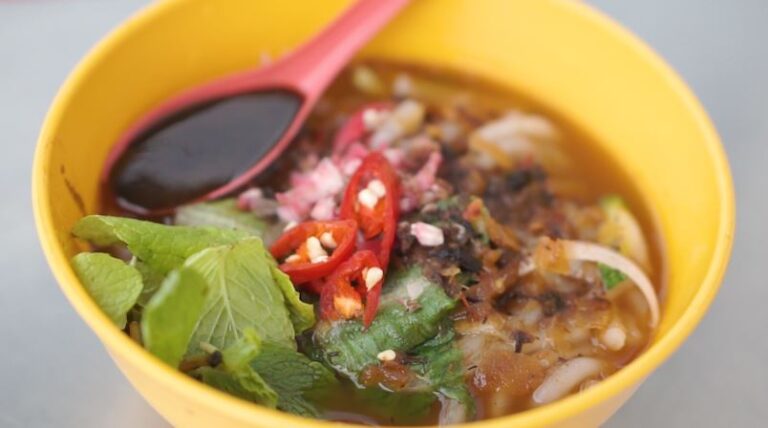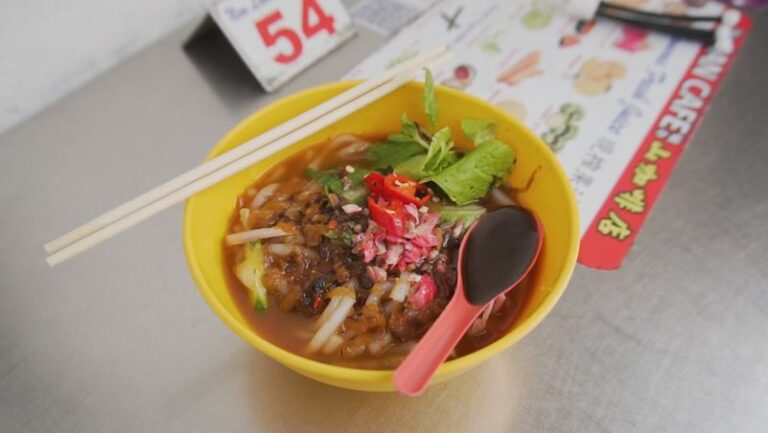 The next dish is Char Kway Teow. Whenever we visit Penang, we never fail to have at least a plate of Char Kway Teow. Char Kway Teow is flat rice noodles stir-fried over high heat with blood Cockles, prawns, bean sprouts, and chives. The biggest highlight of this dish is the wok hei, also known as the breath of wok.
In Penang, you have the option to add on duck egg to your CKT, which is our favorite option, as it is creamier and has a richer egg yolk flavor.
We ate at two popular spots, one at Tiger Char Kuey Teow, which has been running for 3 generations and the other at Cecil Street markets called Barefoot Char Koay Teow, which uses charcoal fire to fry its noodles.
Where we ate:

🔹 Tiger Char Koay Teow (Located in Ping Hooi Cafe)
Address: 179, Lebuh Carnarvon, George Town

🔹 Barefoot Char Koay Teow @ Cecil Street Market
Address: 40-48, Lebuh Cecil, 10300 George Town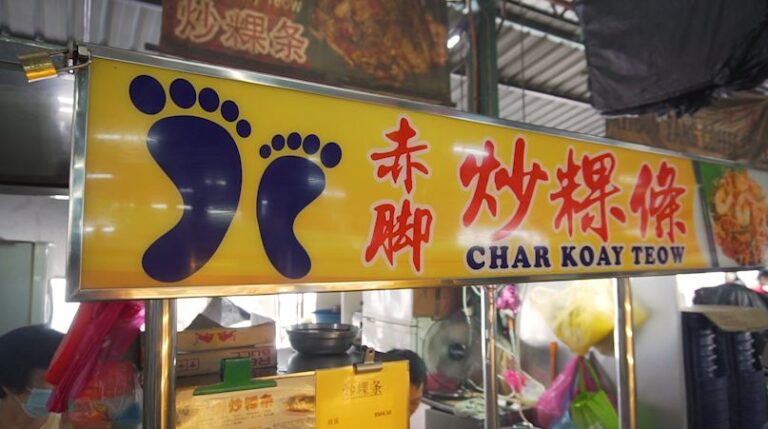 Originated from Penang, Nasi Kandar is a popular staple rice dish where the seller carries a pole over the shoulder back in the days, which is how it got its name Nasi Kandar.
Nasi Kandar is a Tamil Muslim (also known as Mamak in Malaysia) rice dish doused in a variety of curries and side dishes of your choice.
The best and most popular way to enjoy Nasi Kandar is to ask for "Banjir", which means to flood your plate of rice with those delicious curries.
There are many popular Nasi Kandar restaurants in Penang. We've tried two places at Deen's Maju and Kampung Melayu. Since these are famous places, do be prepared for a long queue, especially during holiday seasons.
Where we ate:
Nasi Kandar Kampung Melayu
Address: A-29, Jalan Kampung Melayu, Kampung Melayu, 11500 Ayer Itam
Restoran Deens Maju
Address: 170, Jalan Gurdwara, 10300 George Town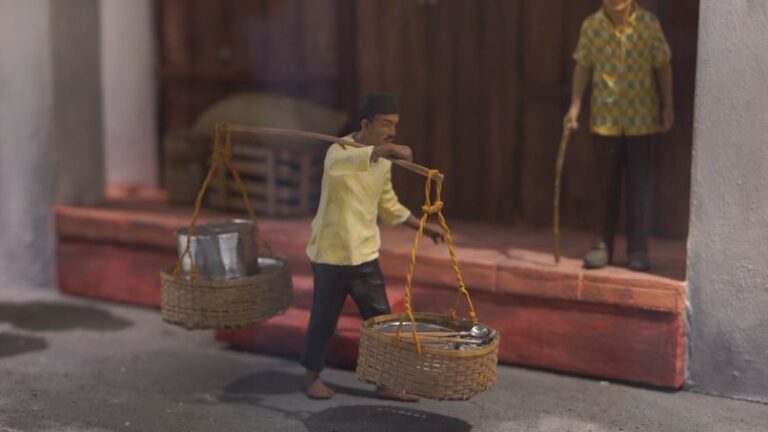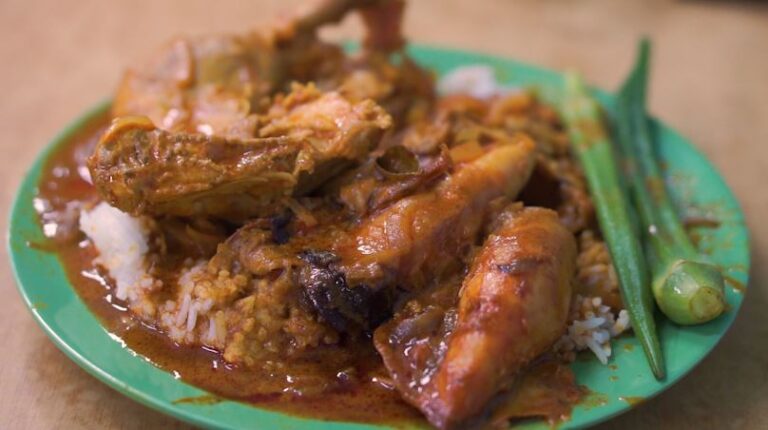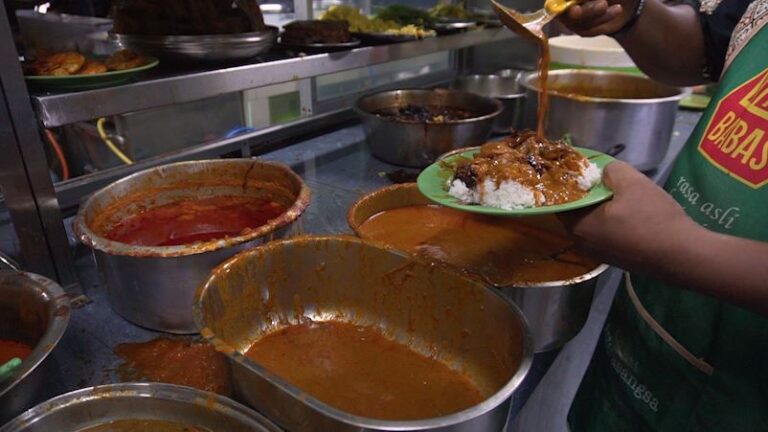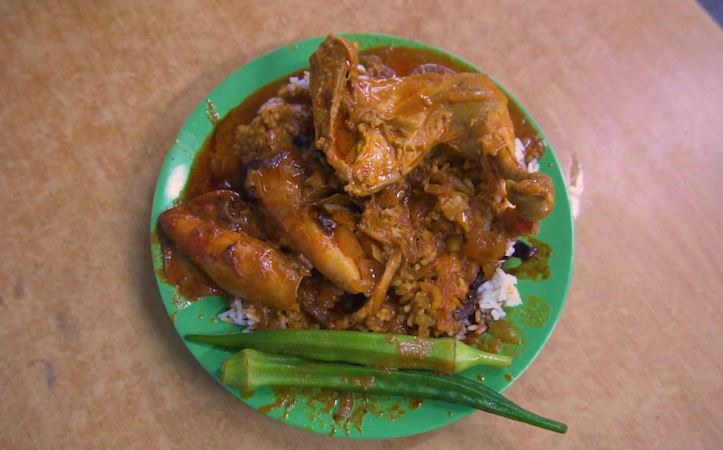 4. O'chien (Stir Fried Oyster Omelet)
Another popular street food here in Penang is O'chien or the oyster omelet. O'chien is basically egg omellete fried with starch and small oysters served with a side of chilly sauce for dipping.

The egg is slightly crispy on the outside, while the inside is soft and a little gooey from the starch, which is a perfect combo with the juicy plump fresh oysters.
You can find O'chien in Most hawker centers in Penang. For us, we went to our favorite spot at New Lane Hawker center to satisfy our O'chien craving.
Where we ate:
🔹 New Lane Hawker Centre (New Lane Hawker Street)
Address: Lorong Baru, George Town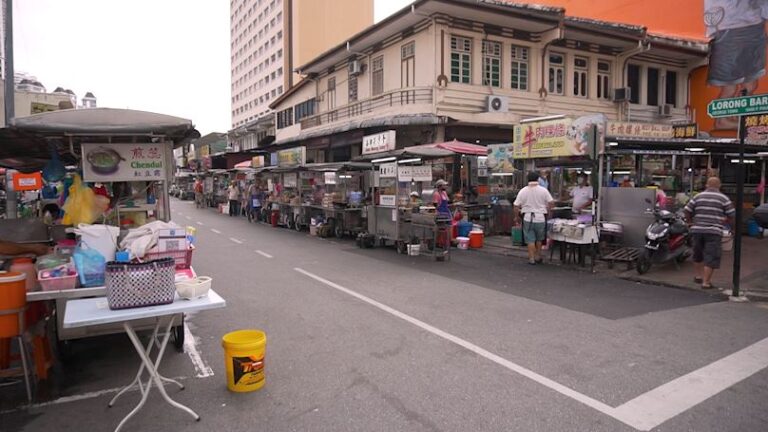 Next up, we have Kuey Teow Th'ng. Also known as Keow Teow Soup, the dish itself consists of a rich clear broth with flat rice noodles, Usually topped with meat such as chicken, duck, pork, or fishball.
Though it may look simple, the broth is packed with rich flavors from the meat that has been boiled for many hours.
Its silky smooth noodle and warm soup is a comforting dish and is commonly sold for breakfast in Penang.
We went to a stall in Cecil market which is popular for its duck meat Koay Teow Th'ng. And another place called Pitt Street Koay Teow Th'ng, known for its signature eel fish balls.
Where we ate:
Lum Lai Duck Meat Koay Teow Th'ng @ Cecil Street Market
Address: 40-48, Lebuh Cecil, 10300 George Town
Pitt Street Koay Teow Th'ng (Eel Fish Ball Noodle)
Address: Lebuh Carnarvon, George Town, 10450 George Town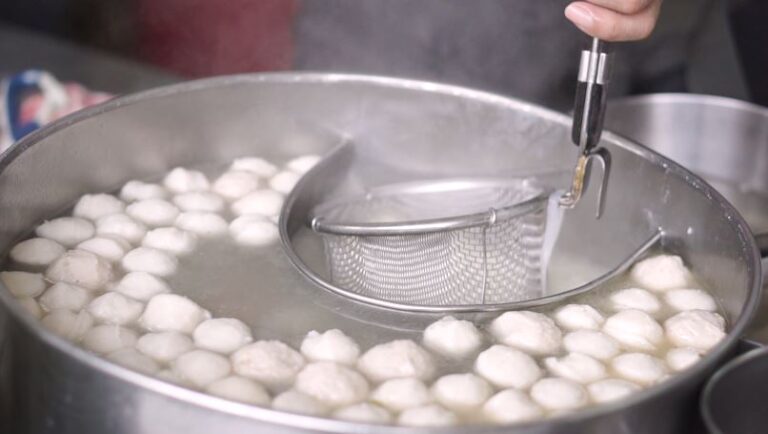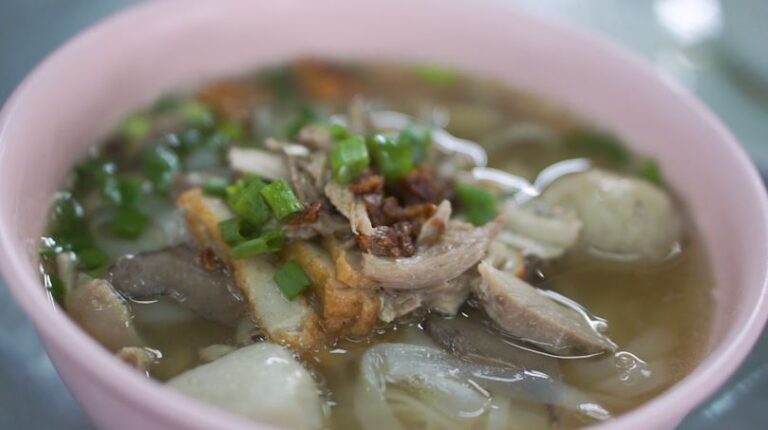 6. Penang Mee Goreng / Mee Sotong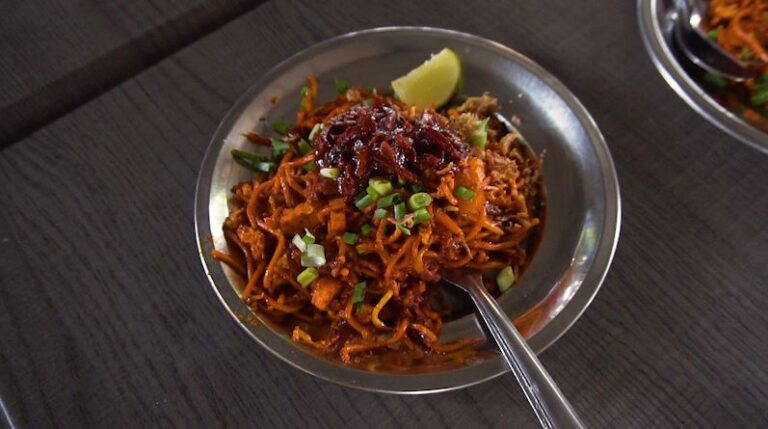 Mee Goreng is another local favourite dish in Penang. This popular Mamak dish literally means Fried Noodles in the Malaysian language. The yellow noodles are stir-fried over high heat, then adding its special bright red sauce that gives the noodle its beautiful colour, and other ingredients such as eggs, bean sprouts, fried tofu, and the best part, the sotong (squid).
We have two favourite Mee Goreng Spots, the first one is at Bangkok Lane Mee Goreng. Besides the delicious plate of mee goreng, here you get to spectate a wok spinning performance by the chef while waiting for your food! The second is at Hameed Pata Mee goreng, the sambal sotong added on topped on the mee goreng is absolutely delicious!
Where we ate:
Bangkok Lane Mee Goreng
Address: 102-H-19, New World Park, Jalan Burma, George Town (Previously at Jalan Burma)


Hameed Pata Mee Sotong
Address: 5, Esplanade Park, Lebuh Light, 10300 George Town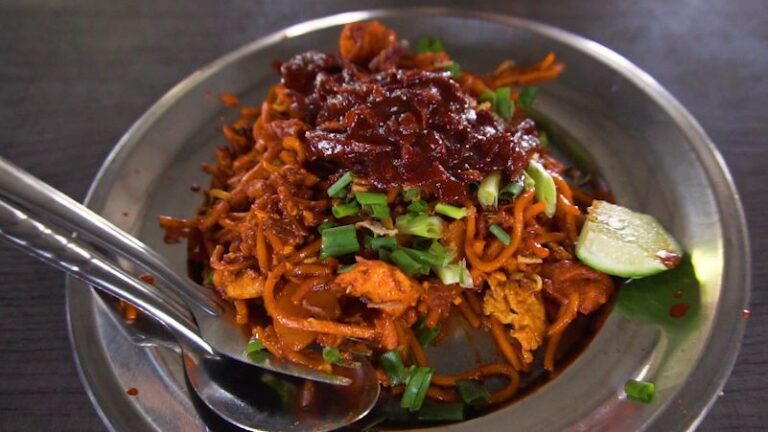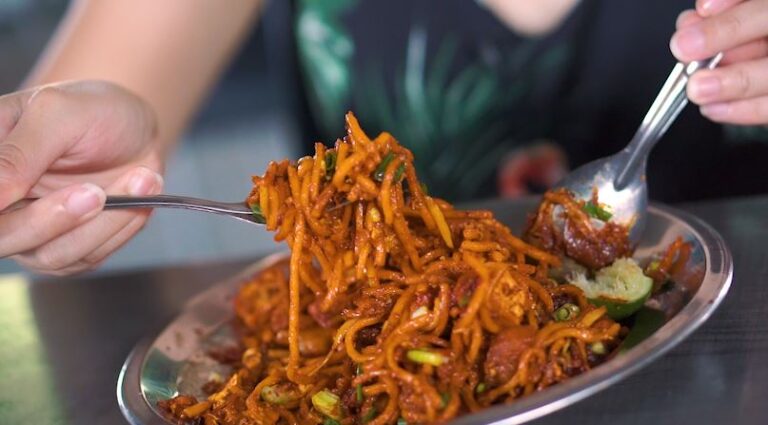 7. Penang Hokkien Mee (Prawn Mee)
Another popular dish in Penang is Hokkien Mee. Penang's version of Hokkien Mee is what we called Prawn Mee back in KL. It consists of red prawn and pork broth, usually served with yellow noodles mixed with bihun, topped with some prawns, hard-boiled egg, and spicy sambal
We had one of the best prawn noodles in Penang, which is 888 Hokkien mee. On top of that, you could also choose to add on additional ingredients, like their roasted pork belly!
Where we ate:
🔹 888 Hokkien Mee
Address: 67-A, Lebuh Presgrave, 10300 George Town
The next on the list is the national dish of Malaysia, Nasi Lemak. Nasi Lemak direct translation means fatty rice, which is actually rice cooked with coconut milk. A basic Nasi Lemak comes with a slice of egg, some peanuts, anchovies, and chilli sambal

In Penang, there is a place that is popular for its simple classic package of nasi lemak, and still maintains the tradition of wrapping it with banana leaves. You can experience it here at Ali Nasi Lemak. The simplicity of its Nasi Lemak really gives us a sense of nostalgia.
Where we ate:
🔹 Ali Nasi Lemak Daun Pisang
Address: Sri Weld Food Court, Beach St, Georgetown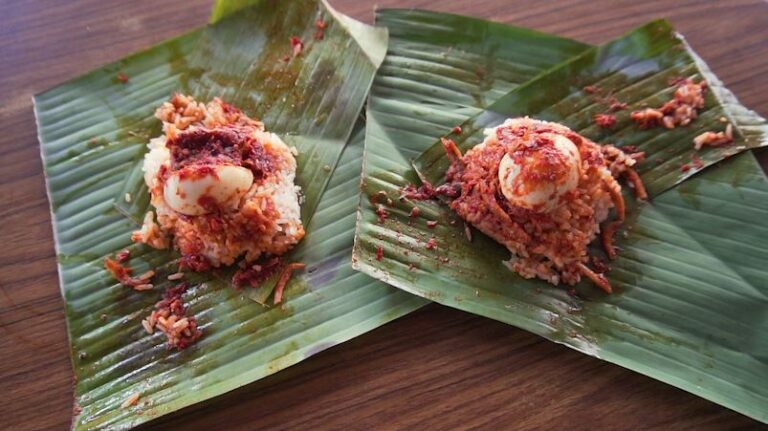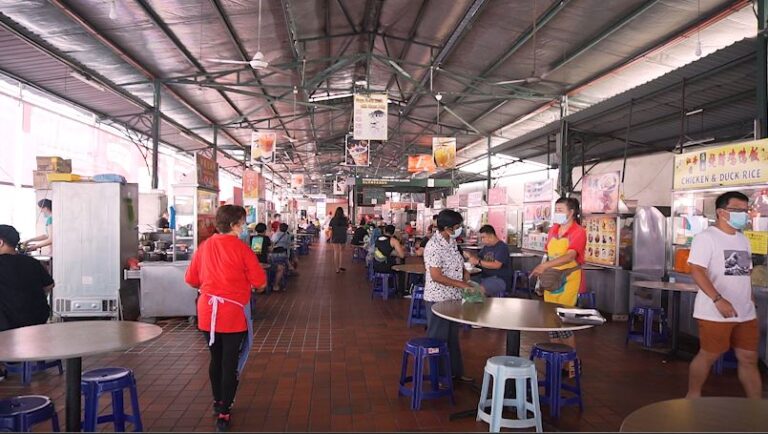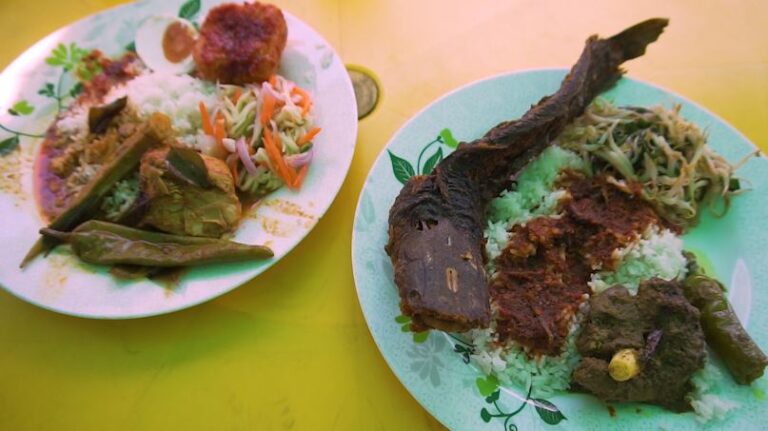 Nasi Campur is another popular staple dish in Malaysia, which is basically Malay-style mixed rice and you could find it here in Penang as well! It is a very homey dish and You get to choose a variety of dishes ranging from chicken, beef, fish, and vegetables.
Out of the many popular Nasi Campur places in Penang, we had ours in Nasi Campur Umi, which is located at Batu Ferringhi, just a few minutes' walk from the beach.
Where we ate:
Nasi Campur Umi
Address: 3C, Jalan Sungai Emas, Kawasan Perumahan Sungai Emas, 11100 Batu Ferringhi
Next, one dish that we absolutely love in Penang is its curry mee. The broth in Penang's curry mee is kind of white or lighter in colour instead of red. It is because the broth has more coconut milk than the curry, which is why it is also known as Penang's White Curry Mee. In Penang's curry Mee, you have the broth, noodles, some tofu puffs, and topped with chili paste.
We had our curry mee at two places. The first one was at Sister Curry Mee which has been operating since 1946. It is served with their special cuttlefish and their awesome sambal.
The other place was at Chulia Street which opens during the night, it is topped with prawns, cockles, and a fishball, and their sambal really packs a punch.
Where we ate:
Air Itam Sister Curry Mee
Address: 612 T, Jalan Air Itam, Pekan Ayer Itam
Chulia Street Night Hawker Stalls
Address: Lebuh Chulia, George Town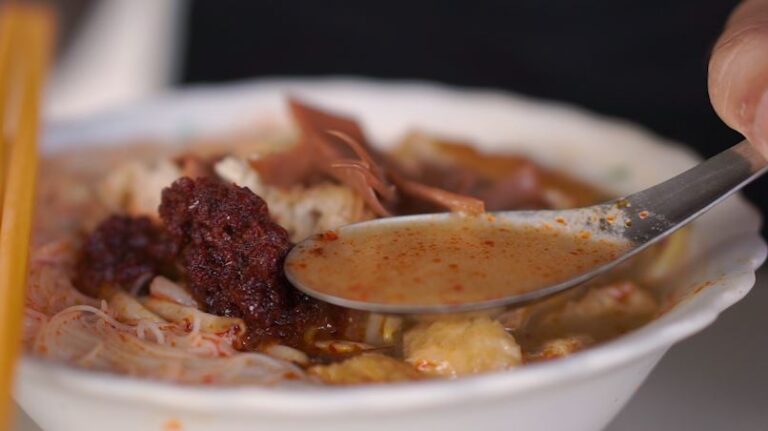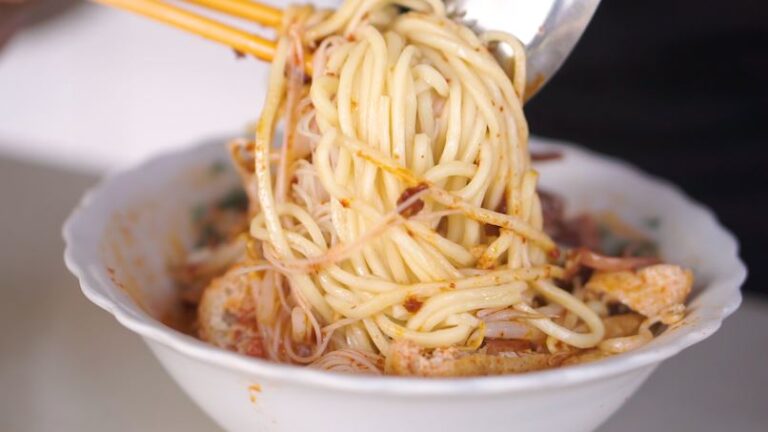 A personal favourite food of ours in Penang is located in Song River cafe along Gurney Drive, and this place sells awesome roasted Chicken Wings for over 20 years.
Besides the chicken wings, the stall sells other parts as well such as the drumstick, thighs, and bishop nose. It is beautifully glazed, and the chicken is always juicy, tender, and nicely charred.
Where we ate:
 Song River Cafe
Address: No. 65, Persiaran Gurney, 10250 George Town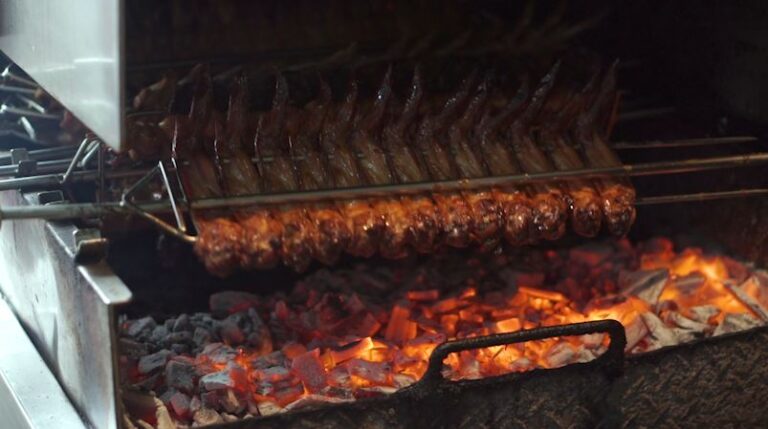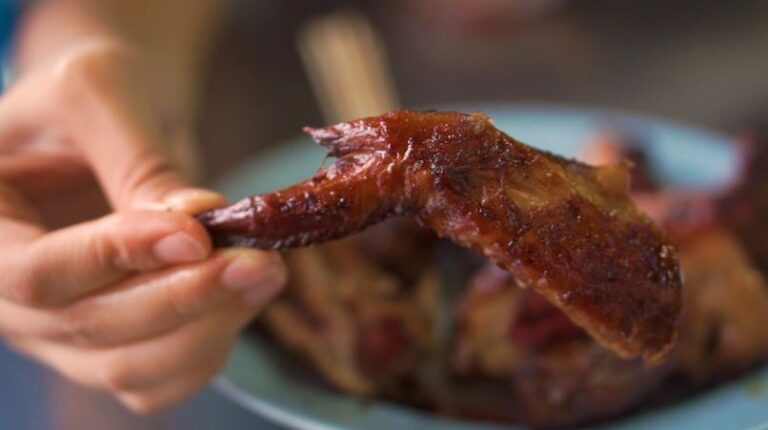 Lor Bak – it is a Penang Nyonya dish to try, which we usually order as a side dish here in Penang. Lor bak is a type of Chinese Sausage roll. the filling is made of pork marinated in the five-spice powder and mixed with some vegetables, wrapped with bean curd skin, and then deep-fried.
We had our Lor Bak when we were at Chulia Street. There is another famous Lor Bak that we recommend is at Tan Jetty, which we miss out on during this trip.
Where we ate:
Chulia Street Night Hawker Stalls
Address: Lebuh Chulia, George Town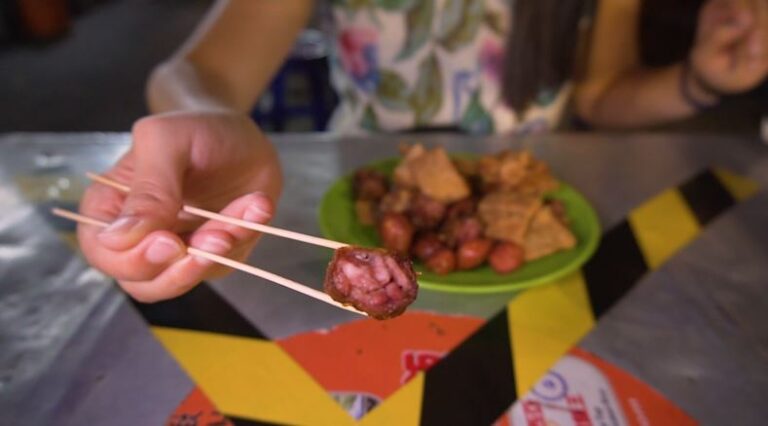 At Air Itam Market, there is a hidden gem that sells Duck Rice. This duck rice is a comfort food for the local night owls as it is sold for late-night supper. The dish itself comes with a combination of duck meat, braised pork, pork intestines, with an additional side of tofu and egg, a good amount of their homemade gravy, and topped with some deep-fried garlic, which you could totally customize all these to your preference.
And don't forget to pair it up with some Boey Chai to add some sweetness and saltiness to the dish. The meat is very soft and tender, not too strong of a flavor, which gives it a very homey feel to the dish, perfect when you're feeling hungry at night.
Where we ate:
Air Itam Market Duck Rice
Address: Air Itam Wet Market, Jalan Pasar, Pekan Ayer Itam
Next on our list, is Roti Canai. Roti Canai is a common dish throughout Malaysia, but in Penang, roti canai here is commonly served with meat and doused with curry. You might have to ask specifically to serve separately if you prefer your roti and curry separated.
Out of the many Roti Canai restaurant, we had our Roti Canai at Roti Canai Jalan Agryll.
Where we ate:
 Roti Canai Jalan Argyll
Address: Jalan Argyll, George Town
One unique dish you have to try here in Penang is Kuey Chap. Although it is not a common dish, here in Penang, there is one specific stall that specializes and is famous for its Duck Kuey chap, and this place is at Kimberley Street Duck Kway Chap.
Kway Chap is basically rice sheets that have been rolled up and chopped into smaller pieces served in soy sauce broth. Here at Kimberley Street Duck Kueh Chap. It is served with duck meat and pork, pork intestines, pork ears, and an egg. The broth has a light herbal soy sauce taste, and the noodles are really smooth and glide easily.
If you have not tried it before, we recommend you to come and try it out for yourself!
Where we ate:
Restaurant Name: Restoran Kimberly 权记鸭粥粿汁
Address: 135, Lebuh Kimberley, George Town
The next dish is an underrated Hokkien dish here in Penang, it is called Lor Mee.
The Lor mee here in Penang is darkish in colour as compared to the white one in KL, the mix of yellow noodles and bihun is served with a thick tapioca starch gravy with egg and vinegar, which is how it got its gooey texture. It is topped with egg, pork meat and deep fried shalots. On the side you could add some chilli and garlic paste.
We fell in love with Lor Mee when we tried it for the first time at at Kedai Kopi Seng Thor in Penang.
Where we ate:
Kedai Kopi Seng Thor
Address: 160, Lebuh Carnarvon, George Town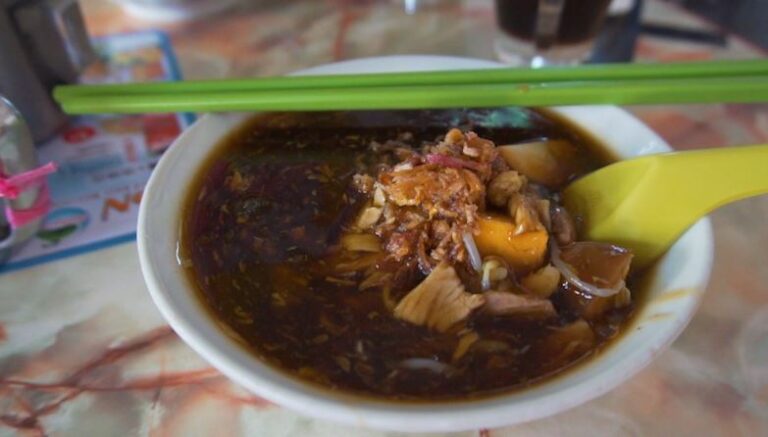 Another dish to try here in Penang is Wan Tan Mee. Wan tan mee is a Cantonese dish that is very popular in Malaysia, especially the dry version. The dish consists of egg noodles, tossed in a dark soy sauce mixture, served with wan tan and char siew.
Though I find that the Char Siew back in KL is better, I like how Penang's version is always topped with lots of deep-fried pork lard.
We had our wan tan mee at two places, one was at Chulia Street Wan Tan Mee,, which serves a simple classic wan tan mee during the evenings and another was at Bamboo Wan Tan Mee., which is known for its traditional bamboo-pole kneaded noodle which you could see it in action during the weekends.
Where we ate:
 Chulia Street Night Hawker Stalls
Address: Lebuh Chulia, George Town
 Tok Tok Mee Bamboo Noodle (Formerly known as Hong Kee Wan Thun Mee)
Address: 37, Lebuh Campbell, George Town
One of Penang's unique dishes that you must try is Char Koay Kak. You can hardly find it elsewhere in Malaysia. Char Koay Kak translates to Fried Rice Cake in squares. The rice cakes or kueh are fried on a flat pan, and the "kuehs" are then cut into smaller bits and pieces, as it fries together with egg, beansprouts, scallion, and choy po. But the most important is the wok hei, because its flavour will seep into the kuehs, which season and texturize the Kuehs.
We had one really good Char Koay Kak which was at Kimberly Street Char Koay Kakwhich fries its dish with woodfire.
Where we ate:
 Restaurant Name: Char Koay Kak (Only written in Chinese: 潮州古早味炒粿角)
Location: In front of Kulai Lau Pan Organic Beancurd (古來佬伴豆花)
Address: 88, Lebuh Kimberley, George Town
Next up we have Penang chee Cheong Fun. Chee Cheong Fun has basically steamed rice rolls, and it is served differently in different parts of Malaysia. in Penang, Chee Cheong fun is served with a dash of sesame oil, topped with sesame seeds, served with chilly paste, but the highlight is the dark sauce here which is the Heh Koh/Har Koh or Shrimp paste.
We found our love for Penang's Chee Cheong Fun after trying at New Lane Hawker Center. Besides the shrimp sauce and the chilly paste, they also had a Taucu sauce. It was a great combination of sauces, really thick and gooey that goes really well with the Chee Cheong Fun.
Where we ate:
New Lane Hawker Centre (New Lane Hawker Street)
Address: Lorong Baru, George Town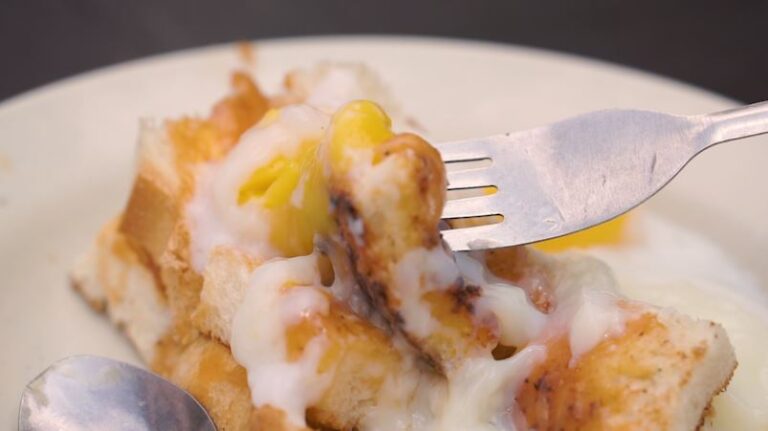 Last but not least, is a simple toast bread dish which we call Roti Bakar! The bread is traditionally toasted over a charcoal fire. It is served with butter and kaya spread, and with a combination of runny half-boiled eggs, Roti Bakar is a popular breakfast in Penang. You could either ask to serve it on top of the bread or separately for you to dip your toast into the eggs.?
You can find Roti Bakar in most kopitiam. For us, our favourite Roti Bakar spot was at Hutton Lane Roti Bakar, which uses these fluffy loaves of bread called roti Bengali. Pair it with a nice cup of Teh Tarik (pulled tea), our perfect breakfast is complete!
Where we ate:
Roti Bakar Hutton Lane (Hutton Lane Roti Bakar)
Address: 300, Jalan Phee Choon, George Town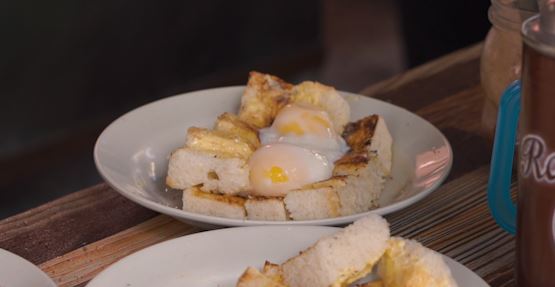 You may also like to read our other post
Email: Puriandsue@gmail.com