Golden Hills Night Market
(Pasar Malam Golden Hills)
Brinchang | Cameron Highlands
Night Market for us has always been about the food!
We've visited the biggest night market in Cameron Highlands, called Golden Hills Night Market or Pasar Malam Golden Hills. Like most Pasar Malam in Malaysia, you can find souvenirs, clothing, toys, fresh produce, and most importantly street food! We had so much fun sampling all the food offered here, which is why we considered visiting the Golden Hiils Night Market as one of the Things to Do in Cameron Highlands!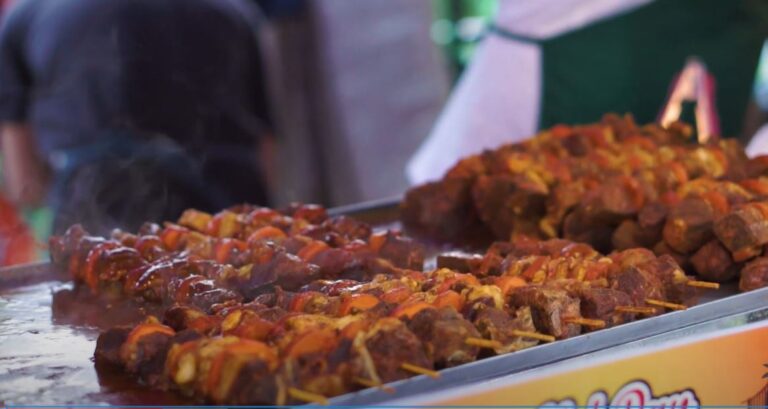 Things to Eat in Golden Hills Night Market
These were all the list of food we ate in the Golden Hills Night Market.
1. Fresh Sea Coconut (Small) – RM 5 (USD 1.18)
We had no idea what a fresh sea coconut looks like. The unopened fruit triggered our curiosity, which made us decide to try it out.
Surprisingly we had to use a little muscle to pull the flesh out. Not much of a taste, nothing like the canned sea coconut we've tasted before. It was rather an amusing experience for us.
2. BBQ Chicken Wings with Rosemary Sauce – RM 3.00 (USD 0.71) per piece
We've got ourselves 2 pieces of these Chicken Wings for RM6. 
Though the rosemary sauce wasn't very prominent, the chicken wings were nicely charred, nicely seasoned, and still juicy inside.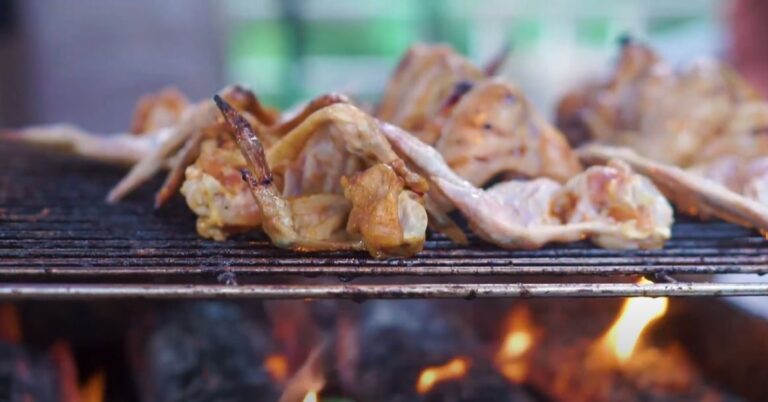 3. Steamed Sweet Potatoes – RM 4.00 (USD 0.94)
Sweet Potato was a fun snack to have. It's very commonly sold in Cameron Highlands.
4. BBQ Sweetcorn – RM 4.00 (USD 0.94)
Barbeque Sweet Corn is nicely roasted and really sweet. Cameron Highlands has plenty of corn farms around, which is why corn is so commonly sold here.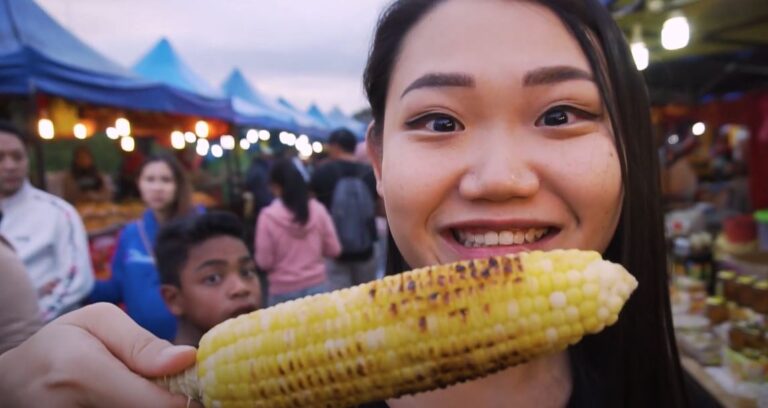 5. Chicken and Lamb Satay – RM 10.00 (USD 2.36)
Couldn't resist not getting the satay when it is grilling right next to us! The lamb satay was our absolute favorite and the peanut sauce was perfect!
6. Apam Balik (Big) – RM 3.00 (USD 0.71)
Puri had to have his Apam Balik. It was crispy on the outside, soft and fluffy inside. Within the Apam Balik, there were some shredded coconut, corn, and peanuts.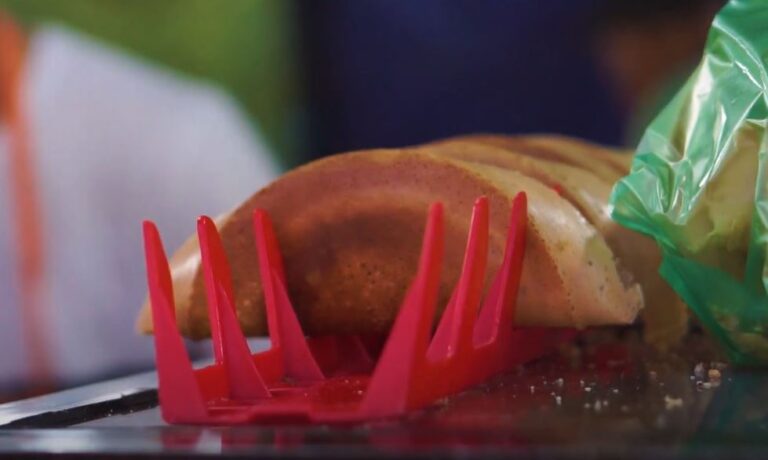 7. Lamb Chop – RM 10.00 (USD 2.36)
The lamb chop was the highlight of our Pasar Malam food hunt! It was freshly grilled, very aromatic, perfectly seasoned, very tender and the fats melts in our mouths! We regret not getting more of it!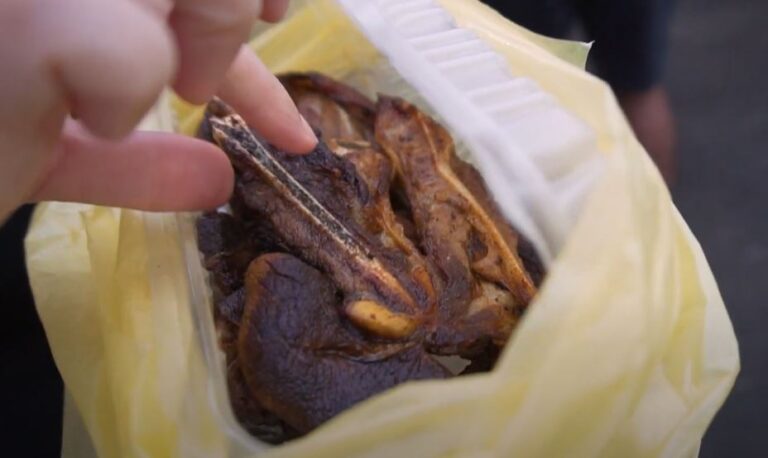 8. Deep Fried Enoki Mushrooms – RM 4.00 (USD 0.94)
The deep-fried enoki mushrooms were one of the hot-selling items at that particular stall. The crispy batter makes it a very nice snack, almost like having chips! Do eat it quickly though, as the excess oil does make it soggy over time. 
9. Deep Fried Sweet Potato Balls – RM 6.00 (USD 1.42)
Another interesting snack we got was the deep-fried sweet potato balls. The texture inside is chewy and has some hints of sweet potato flavor.
Here are some other food that were sold at the Golden Hill Night Market.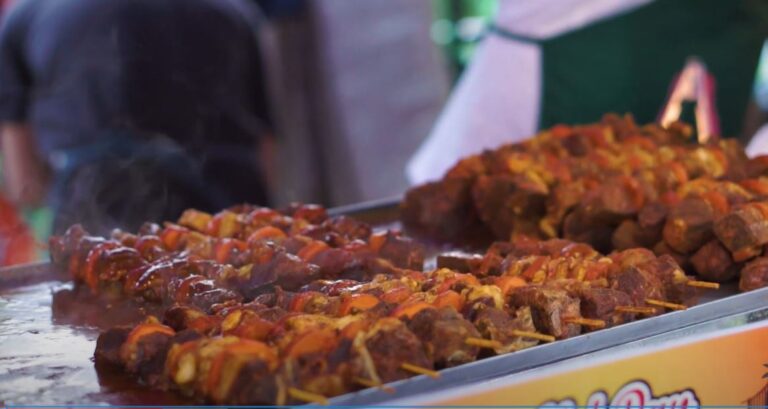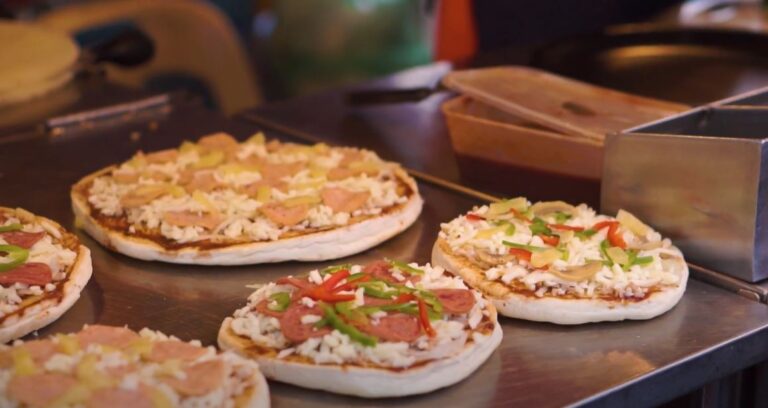 There was even a play area at the end of the Night Market.
GOLDEN HILLS WEEKEND NIGHT MARKET (Pasar Malam Golden Hill)
Address: Jalan Sungai Ruil, Brinchang, 39000 Brinchang, Pahang, Cameron Highlands
Opening Hours: Fridays & Saturdays: 4.00pm – 10.00pm
You may also like to read our other post
Email: Puriandsue@gmail.com