Langkawi Island Hopping Tour
Visiting some of Langkawi's best island!
About the Langkawi Island Hopping Tour

Langkawi Island Hopping Tour is one of the recommended things to do when visiting Langkawi!
On the second day of our Langkawi trip, we had on our itinerary Langkawi's Island Hopping Tour, which if you look up on google the island hopping tour is one of the recommended things to do in Langkawi. The island hopping tour stretches about 3-4 hours long, from 9am to 1pm, covering three islands south of Langkawi's main island. 

The tour brings us to visit Langkawi's famous lake called Pulau Dayang Bunting ( Lake of the Pregnant Maiden) where we went kayaking. Then we stopped at Pulau Singa Besar for eagle watching from the boat. Lastly, it brought us to Pulau Beras Basah (Wet Rice Island) where we relax on the white sandy beach and enjoy the crystal clear water.
There are two options to enjoy the Langkawi Island Hopping Tour:

1. Speedboat Tour (Shared or Private Boat Tour) – This is a relaxed and chilled experience which was what we chose because it was much cheaper.
2. Jet Ski Tour – If you're feeling adventurous you can opt for the jet ski tour.
How to book the Langkawi Island Hopping Tour
Puri and I are the type of travelers that plan and book most of our trips as much as possible before the actual day. So, we've booked our tour ahead of time through Klook and chose the package: [Tour Only] Meet at McDonald's Underwater World. (Please note that this is an Affiliate link)


Check out Klook for amazing deals below!

(Note that the links above are Affiliate Links)
How much is the Langkawi Island Hopping Tour
Ticket Price based on Klook's website as of 2022:
  Langkawi Island Hopping (Shared Speedboat Tour):
RM 40 / USD 9.55 – Adult per pax
RM 30 / USD 7.16 – Child per pax
  Other Fees and tickets not included in the tour:-
Tasik Dayang Bunting Entrance Fee:

RM 6 / USD 1.43 – Adult per pax (RM3 for locals)
RM 3 / USD 0.72 – Child per pax (RM1 for locals)



1x (Single) Pedal Kayak Rental + 2x Life Jacket (at Task Dayang Bunting)

Total paid: RM 30 / USD 7.16
Langkawi Island Hopping Tour Review
Since we've picked the Tour Only package, the arrangement was for us to go to the meeting point at McDonald's next to the Underwater World in Pantai Cenang and the transport will pick us up from there to the jetty.
Once we arrived at the Jetty, we were surprised at how packed it was, there were just so many people there. It was clear blue skies that day, and we could see the boats parked at the pier as we follow our way to the boat.
Island #1: Pulau Dayang Bunting
For the first island, we were brought to the Pulau Dayang Bunting, which translates to the Pregnant Maiden island, because the island looks like a shape of a sleeping pregnant lady. On the island itself, there is a lake where you can swim and have activities here.
We were given an hour to spend on the island itself. Do take note of your boat number as you would need to return to the same boat.
There is a freshwater lake called Tasik Dayang Bunting which requires about 5 minutes of hike where you can swim and enjoy some water activities such as kayaking.
Do prepare some cash as there is an entrance fee of RM3 to go to the lake and also if you want to rent the kayaks at the lake which you have to pay extra for.
The pregnant maiden lake is a freshwater lake that's right next to the sea on the other side. The limestone marbles made up the entire island, it was a breathtaking sight!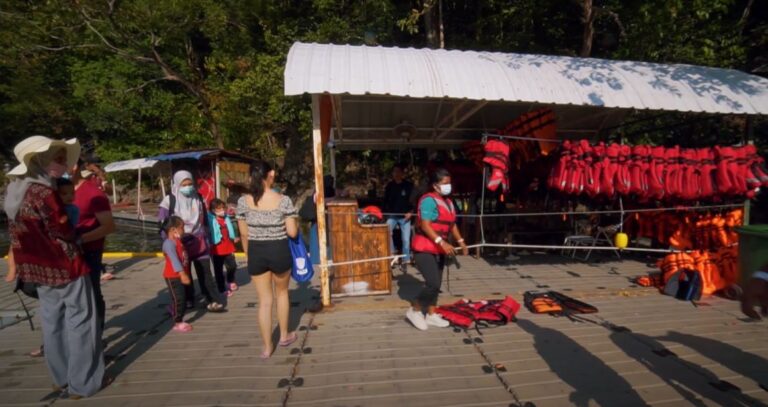 Since the couple canoe was fully rented out, we opted for the single paddle canoe and two life jackets from the counter next to the lake for RM30. It got tiring after a while with all the cycling (we're totally unfit people haha), but it was totally worth it! 
After an hour, we headed back to the jetty. We were slightly late, but thankfully our boat was waiting for us! 
Island #2: Pulau Singa Besar
Next, we headed to the next island called Pulau Singa Besar to watch the eagle feeding session. It was an incredible sight to witness these majestic birds so close to our boat. It was a fairly quick stop about 5-10 minutes as we do not need to get off the boat. With that we're off to the third and final island.
Island #3: Pulau Beras Basah
Our last stop is Pulau Beras Basah, known for its crystal blue waters and white sandy beach. 
There are some activities available on the island such as snorkeling banana boat and jet ski rentals, but we see the majority of the people swimming or chilling on the beach. 
And if you need a little refreshment there is a small stall available here on the island selling some drinks and snacks.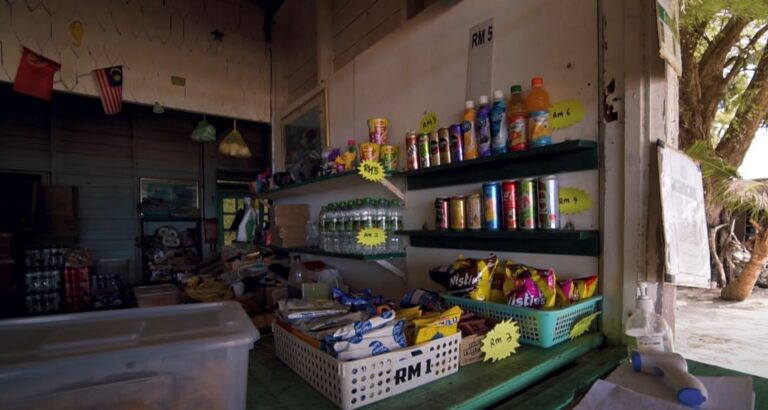 We were given an hour time on the island and after that, we headed back to the jetty on Langkawi's main island and back to Pantai Chenang where we came from earlier.

Conclusion: Is the Langkawi Island Hopping worth it?
For just only RM40 per pax to tour the beautiful islands, it is definitely worth it! If you have a higher budget, of course, you can opt for the Jet Ski tour, which we would like to do that one day 😉 It only takes about 3-4 hours so if you have time to slot it into your itinerary we would definitely recommend you to do so when you visit Langkawi!
You may also like to read our other post
Email: Puriandsue@gmail.com