Things to do in Kuala Lumpur
Ocean in the heart of the city.
Aquaria KLCC features one of the best underwater explorations with exhibits that takes you through freshwater to marine environments.
This place has thousands of reviews and high ratings on Google and Klook, which made us really excited about our visit! Is this place as amazing as it sounds? Is it worth your money and time here? Keep reading to find out!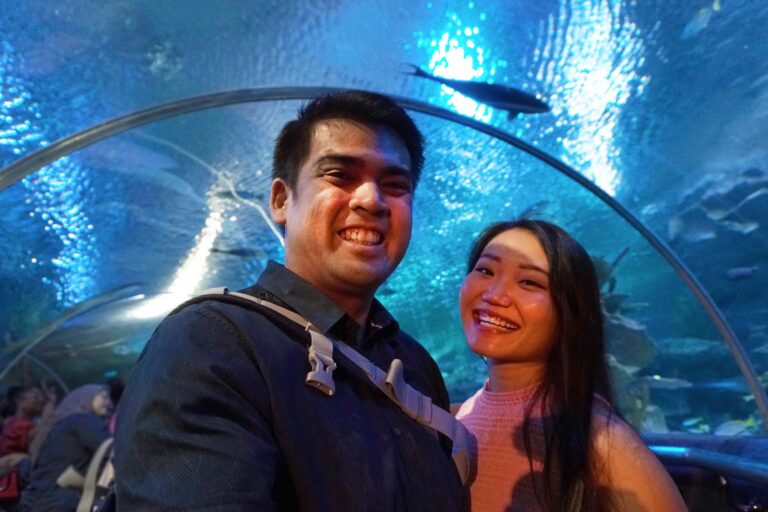 If you look up Things to Do in Kuala Lumpur, high chance that this Oceanarium will pop up in most of the list. Located in the heart of KL, Aquaria KLCC is ranked as one of the top five aquariums in Asia in KL City Centre Malaysia. If you'd like to explore some marine life in the heart of KL then you should definitely visit Aquaria KLCC. This a great place for family outings and bring along your kids, or even come here for a date.
(The place is also designed to be wheelchair and stroller-friendly, which we think is really thoughtful of them.)
Ticket Price based on Official website as of 2021:
Adult: RM49 (we got ours cheaper at RM39 via Klook!)
Puri and I pre-booked our tickets and got a great discount through Klook. We've got our tickets at RM39 for each adult (the normal price is RM49/adult). Klook has discount package for individuals and families as well. Besides the discount, we're able to Skip-The-Ticket-Line and enter by showing our tickets through the app – which is great to avoid any waiting!
Check out Klook for amazing deals below!

(Note that the links above are Affiliate Links)
How to get to Aquaria KLCC?
You can get to Aquaria KLCC via:-

Car
Public Transport (Taxi/Grab)
Bus
Train (LRT)
We've decided to play tourist in our city. So instead of the usual driving, we took the LRT train that connects all the way to KLCC (Get to save on parking as well, because parking in KLCC is notoriously known for its expensive rates). Once we reach the Petronas Twin Towers, there is a short walk (underground or across the park) to Aquaria KLCC, which is right beneath the Kuala Lumpur Convention Center.
– EXPLORE BEAUTIFUL SEA CREATURES
AT THE SHIPWRECK EXHIBIT –
Our Experience at Aquaria KLCC
As soon as we entered we were at the zone called the gene pool, where we were able to touch the freshwater creatures swimming in the shallow pools. This is definitely a highlight for both adults and kids as we get to interact with spotted stingrays, Brown banded bamboo sharks, Horseshoe Crab and some really cute starfishes!
We were also in time to witness the Feeding Session at the Touch Pool!
The next area we entered was this well-decorated shipwreck area which features deep-sea creatures like the fire shrimp, spotted garden eel, and the majestic lionfish.
We've completed the top floor and head to the lower ground, that's where we get to find larger fishes and even sharks at the Stream Area!
Our favourite section has to be the 90-meter long underwater walkway Tunnel! It felt like we've just dived underwater and went to a whole new world, featuring an ecosystem of the deepwater marine life, where sharks, stingrays and fishes were swimming around us, it was an incredible experience!
– Aquaria KLCC features an amazing 90-meter long
underwater walkway Tunnel! –
There is also a feeding sessions within Aquaria KLCC. I'd say come for the feeding time especially the one that they feed the sharks.
It was so surreal to be surrounded by so many sharks and marine life around us. There is just so much to explore. 
You should just take your time slowly enjoy the sights bring your camera. If you go really really slow two to three hours would be just nice you get to see all the sea creatures.
We totally enjoyed our time here at the Aquaria KLCC. Highly recommend checking out this place if you're looking for things to do in Kuala Lumpur!  
AQUARIA KLCC, KUALA LUMPUR
Address: (Located beneath Kuala Lumpur Convention Center), 5P37+G8 Kuala Lumpur, Federal Territory of Kuala Lumpur 
Opening Hours: Opens daily from 10am to 8pm
You may also like to read our other post
Email: Puriandsue@gmail.com