Staycation at Hilton Kuala Lumpur (Hotel Review)
A weekend getaway to pamper ourselves.
Hilton Kuala Lumpur has been around since 2004 but despite the number of years, it has done renovation to upkeep the hotel's design to stay new and relevant. It has also held the title of Malaysia's Leading Business Hotel for many years.

In this post, we're going to review Hilton Kuala Lumpur, the room that we stayed in, its breakfast buffet, and show you around what's there in Hilton Kuala Lumpur. 
We have made our booking directly through Hilton's website during a promo since it was the cheapest compared to other booking websites such as Agoda or Booking.com. It was during covid times, so we couldn't travel overseas, but that doesn't mean we can't enjoy a wonderful vacation in our own city! 
For a night stay in the King Deluxe Room with Lake View including breakfast buffet for 2 people, we've paid a total of RM340. 
Hilton Kuala Lumpur is strategically built right next to KL Sentral train station. You could easily take the train at KL Sentral to go to most popular tourist spots such as the Petronas Twin Tower and direct link to the KLIA airport via high-speed train. Just so you know, KL Sentral is the largest transit hub in Malaysia, and almost all the interchanges are right here at KL Sentral. There is even an air-conditioned linked bridge from Hilton Kuala Lumpur to KL Sentral which you could walk over without directly touching the sun, how convenient is that!
Since this is a hotel, it comes with the usual concierge service for you to check-in and out from the hotel. There is an Executive Lounge located on the 33rd floor but it is exclusively accessible for guests who are staying at the executive rooms and suites. At Level 8, you will find the outdoor pool area (which we will review later in this post), the gym and spa. There are also on-site restaurants available within the hotel such as Iketeru, Chynna and Vasco (where the breakfast buffet is), but do expect to pay a premium for these fancy restaurants. Pets are not allowed in this hotel.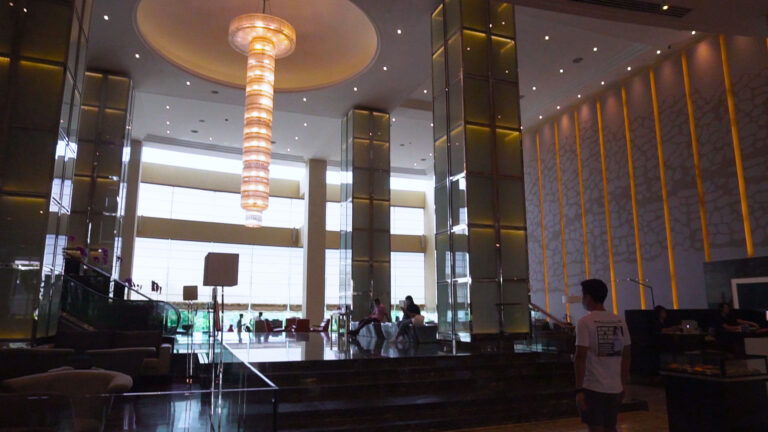 We have booked the King Deluxe Room with Lake View, overseeing the Perdana botanical garden. It comes with a king-size bed, super comfortable, clean bedsheets, and soft fluffy pillows that made us sleep well throughout the night. 
One of the main reasons why we went ahead with this room (more like the lady's choice actually), besides the room size, was because it comes with a bathtub. I've prepared some flower petals to enhance my spa experience. The bathroom area was impressively spacious, it comes with a bathtub, shower area, and a separate toilet. 
The room was clean overall. We're impressed by Hilton's Clean Stay Program to ensure the hotel areas and rooms are clean and disinfected. The lightings are warm, really soothing and relaxing. It comes with two bathrobes as well. The toilet, the air conditioning, the TV, mini-refrigerator, everything works well. All the basic necessities are provided. Since we knew there were wine glasses provided in the room, we've brought our wine bottle and enjoyed our lake view while sipping down on wine and snacking on some Korean-flavored peanuts. Room service is also available if needed.
Breakfast Buffet at Vasco
We have also book breakfast along with the room. It was a buffet-style, serving a range of local and international dishes. 
From appetizers, main course to cheese platters, there are also live-cooking stations to customize and prepare the dishes freshly for you. Our go-to station for almost every breakfast buffet is the egg station.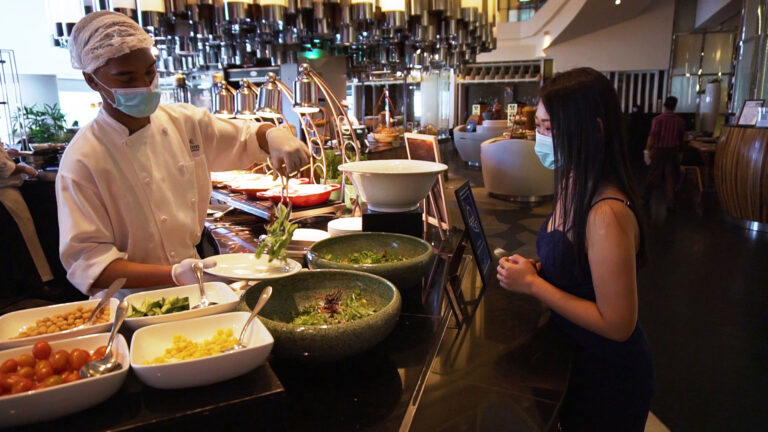 Luckily for us, pools were allowed to open during our visits. We managed to use the pool, and Puri used the gym (sorry we did not have any photos of the gym as no camera is allowed). The pool area was pretty huge, it has nice landscaping featuring a waterfall, and it has a view overlooking the city. There were lots of umbrellas stands for you to sit and chill by the pool. You could even order a drink as there is a pool bar. For us, the best feature about the pool is definitely the slide!
Nearby Hilton Kuala Lumpur, you have Brickfields, where you can find most Indian cuisines and visit Little India. There is the Perdana Botanical Garden for you to enjoy some greeneries, and nearby there is the National Mosque of Malaysia. From the hotel itself, you can also easily take a Grabcar or the train to go to Mid Valley shopping center within a short distance, or even Bukit Bintang where the shopping heaven is. Then again, since it is next to the train hub, you are basically connected to most places.
During our checkout, it was fairly easy. There is a Contactless Checkout box for you to just drop the key, and you're done!
If you parked at Hilton, don't forget to validate your parking ticket at the concierge (next to the check-in counter) to enjoy Special Guest Rates for parking fee at RM3 per night. 
Overall, we really enjoyed our stay here at Hilton Kuala Lumpur. The service is good, room was clean and spacious, breakfast was delicious, love the pool area, the whole experience has been a positive one. Also, there were lots of malls nearby, which is very convenient for us to just take a Grabcar to the Gardens for shopping and have dinner. 
Definitely recommended Hilton Kuala Lumpur for a staycation!
You may also like to read our other post
Email: Puriandsue@gmail.com