Things to do in Fraser's Hill
2D1N trip Itinerary and Travel Guide
FRASER's HILL, RAUB | PAHANG
A hidden gem located on the Titiwangsa mountain range in Malaysia.
Fraser's Hill, also known as Bukit Fraser (in Bahasa) or 福隆港 (in Chinese) is a hill station located on the mountain ridge of the Peninsula Malaysia (Banjaran Titiwangsa or Titiwangsa Mountain), about a 2.5-hour drive from Kuala Lumpur. 
If you're looking for a popular weekend and holiday getaway spot, do check out Fraser's Hill. It is a hidden gem more commonly known to locals. It's less commercialized and touristy than the other hill/highlands i.e. Cameron Highlands and Genting Highland. If lush greeneries and enjoying the chilly breeaze is your cup of tea, do check out this hidden gem over the weekend!
Fraser's Hill Itinerary at a Glance
  Day 1
8:30am – Depart from Kuala Lumpur
9:30am – Stop by Kuala Kubu Bharu – Breakfast at Sun Sun Nam Cheong
10:30am – Kuala Kubu Bharu Dam, Look Out Point
11.00am – Chiling River
12:00pm – Head up to Fraser's Hill
1:00pm – Arrived at Fraser's Hill Clock Tower
1:30pm – Lunch at The Pine's Cafe
3:00pm – Check in Accomodation and rest
7:00pm – Dinner at Ye Olde Smokehouse
9:30pm – Walk around the Clock Tower at night
10:00pm – Night Ends
  Day 2
7:30am – Hiking at Hemmant Trail
8:15am – Walking around Fraser's Hill
9:30am – Breakfast at Hamzah
10:30am – Paddling and Fish Feeding at Allan's Water
11:00am – Fraser's Edible Garden
12:00pm – Lunch at Aida Daniya Restaurant & English Teahouse
2:00pm – Horse Riding and Archery at The Paddock
3:00pm – The Glasshouse
4:00pm – Head back to Kuala Lumpur
Things to Know Before Going to Fraser's Hill
Weather is cooling since it's located on the hill. According to https://www.fraserhill.info/, temperature ranges between 22 – 28°C during the day and 16°C to 20°C at night. So do bring along your hoodie, jacket, and favourite blanket for the trip. However, since it's closer to the sun, don't forget to wear your sunscreen as it could get really sunny, and bring an umbrella along as it rains pretty often up there.
Things to Do in Fraser's Hill:-
1. Kuala Kubu Bharu - Breakfast at Sun Sun Nam Cheong
On our way to Fraser's Hill, we've made a breakfast stop at Kuala Kubu Bharu, a small quaint town at the foothill of Fraser's Hill. There is a classic old-school Hainanese restaurant called Sun Sun Nam Cheong 新南昌 serving local cuisine. We arrived around 9.00am, which is a perfect time for breakfast. We've ordered their signature Hainanese chicken chop, a Roti Bakar (Toast bread) served with Kaya and butter, along with two half boiled eggs. The food here has a very homey feel, a basic kopitian food with lovely setting, just brings us back in time. 
What we've ordered:-
Hainanese Chicken Chop
Roti Bakar (Toast with Kaya and Butter)
Half Boiled Eggs
Orange Juice
Hot Coffee
Total Bill – RM32
 Sun Sun Nam Cheong
https://goo.gl/maps/8BBXzkrbqx5hFTTL7
2. Look Out Point at Sungai Selangor Dam
After our breakfast, we've stopped by the Look out point at Sungai Selangor Dam. On the way to Fraser's Hill coming from Kuala Kubu Bharu, you will definitely would pass by this amazing view of the Sungai Selangor Dam. We stopped by the Lookout Point to have a grasp of the scenic view. We do notice some people picnic here, as there are some tables and chairs available for the public. Plus it's free! The dam was pretty filled this round, whereas the water level could be lower during dry seasons.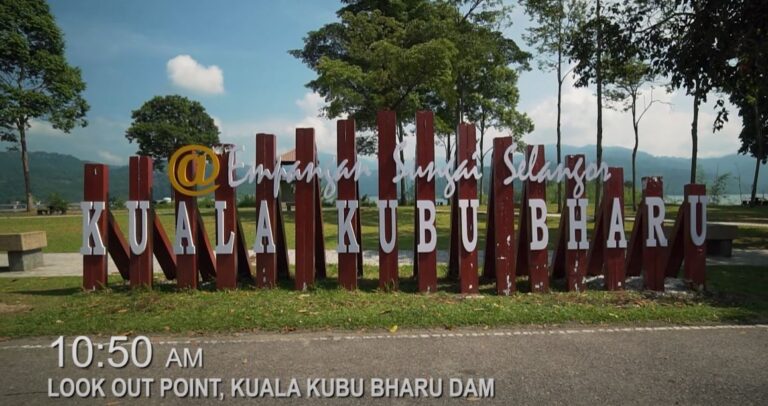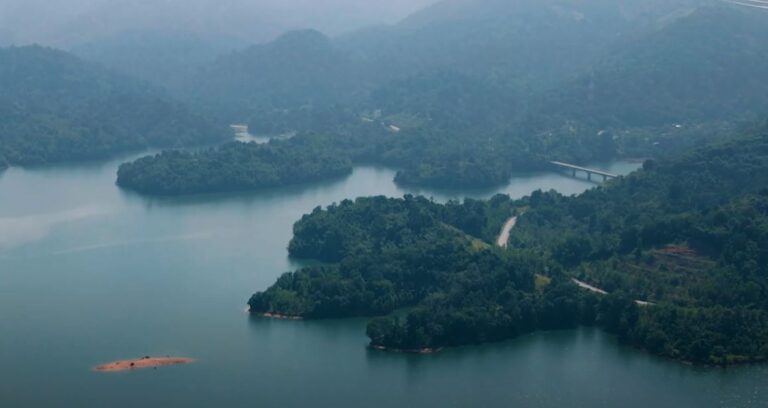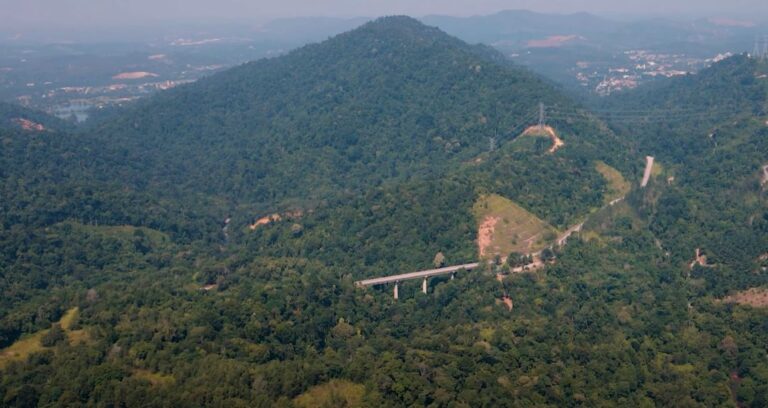 Just 5 minutes away from the Sungai Selangor Dam is the Chilling River. There is a waterfall called the chilling waterfall where you have to hike for about an hour. It is open from Fridays to Sundays but we totally skipped that plan. 

We could already hear the sound of the river from the parking area. There's a little bit of stairs to go down to the stream about 2 minutes. However we were a little disappointed along the way as the place was littered with leftover food packagings and it really spoils the atmosphere. Luckily it was much cleaner at the stream. The water from the dam actually comes from this river. It's a famous for a picnic spot, and you could even take a dip since the water was rather shallow.
4. Fraser's Hill Clock Tower
After our stop at Chilling River, we headed up to Fraser's Hill. It takes about 45 minutes to 1 hour from the foothill.
As we reach closer to our destination, we notice there were more Pine Trees along the way. Once we arrived at Fraser's Hill, we were greeted by the iconic Fraser's Hill Clock Tower. There were many tourists circling that roundabout, trying to take photos with the town's famous icon, and of course we had to take some photo and videos ourselves too!
5. Lunch at The Pines Resort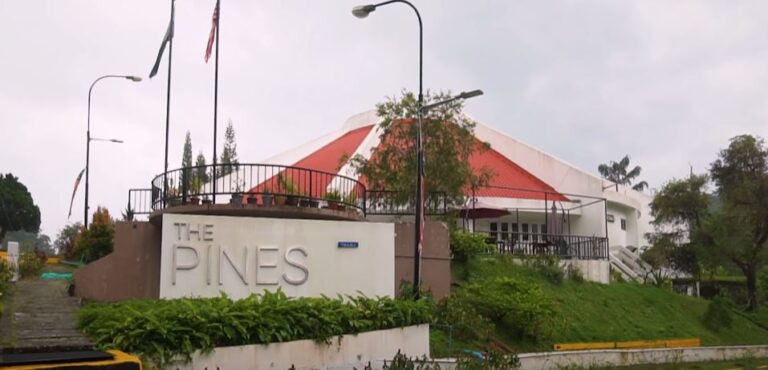 Initially, we wanted to have lunch at Aida Daniya Restaurant but unfortunately, it was closed, so we headed to The Pines Resort as they have a cafe in the resort itself that is open to the public. 
The Pines Resort cafe serves quite a variety of Chinese dishes. We've ordered three dishes: cantonese fried noodles,  seafood fried rice and also some mixed vegetables. 
What we've ordered:-
Cantonese Fried Noodles
Seafood Fried Rice
Mixed Vegetables
Total Bill including drinks – RM76 (for 3 pax)
The Pines Resort (Cafe)
https://goo.gl/maps/zyFgB9kg4mGWY1Vg7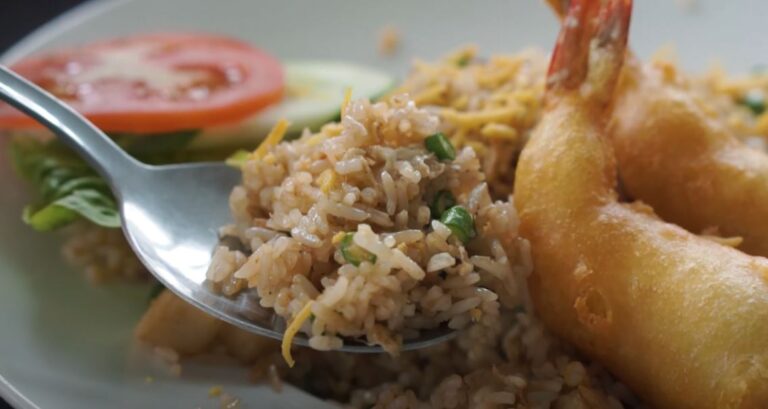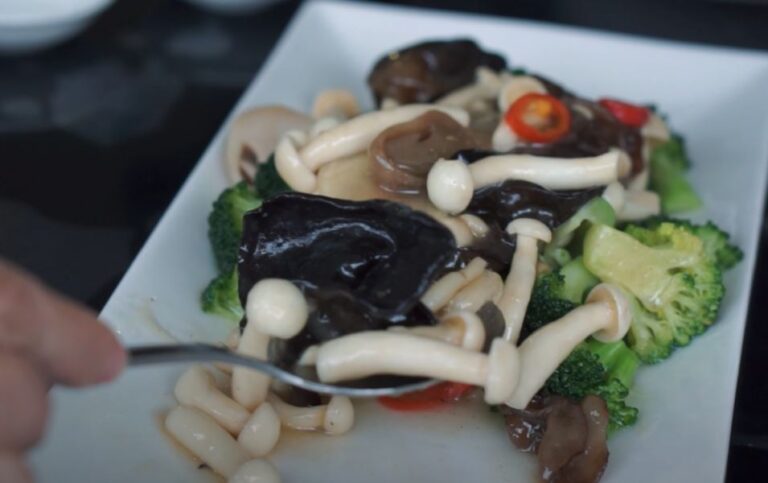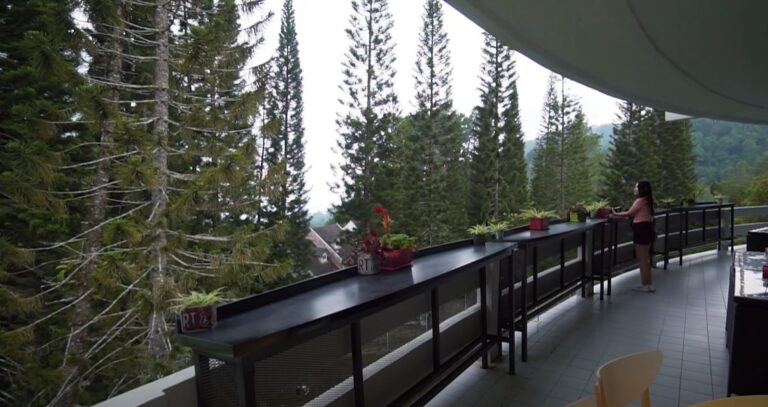 Birdwatching in Fraser's Hill
The Pines Resort café has a beautiful view and this spot is well-known to birdwatchers as there are many pine trees around with some rare birds apparently. We are not bird watchers so we won't be able to appreciate as much the thrill of looking at birds.
In fact, Fraser's Hill is one of the top spots in the world for bird watching.
Around 6pm, we've made our way to Ye Olde Smokehouse for dinner. 
It has a very vintage English decoration, super cute and very lovely environment. It feels like we've just travelled through time. Ye Olde Smokehouse do provide accommodations as well.
What we've ordered:-
Roast Lamb Leg (RM65.00)
Beef Wellington (RM78.00)
Cream of Pumpkin (RM18.00)
Total Bill including drinks – RM193.70 (for 2 pax)
Ye Olde Smokehouse

https://goo.gl/maps/zyFgB9kg4mGWY1Vg7
7. Hiking in Fraser's Hill - Hemmant Trail
Fraser's Hill is a popular spots for hikers. There are quite a number of trails, each has its own challenges and difficulty level. Well, we're not so much of a hiker ourselves, so we took the easiest trail, called the Hemmant Trail.
In front of every trail, there' a signboard and a little map to indicate what kind of challenge you would be facing in the trail. 
Hemmant trail takes about 40 minutes hike, that is if you're slow like us but for a good reason – Hemmant trail is a scenic trail. Along the hike, it was very breezy, some paths were paved, and we barely break a sweat. Going downwards, we have the forest on our right while the golf course on our left. Among the branches, you could easily spot many types of birds during the hike. One of the best part is there were no nasty-blood-sucking leeches along this trail.
After probably more than 40 minutes and many stops later, we've completed our trail and arrived at the main road, next to Fraser's Hill mosque and restaurant called Hamzah where we had our breakfast.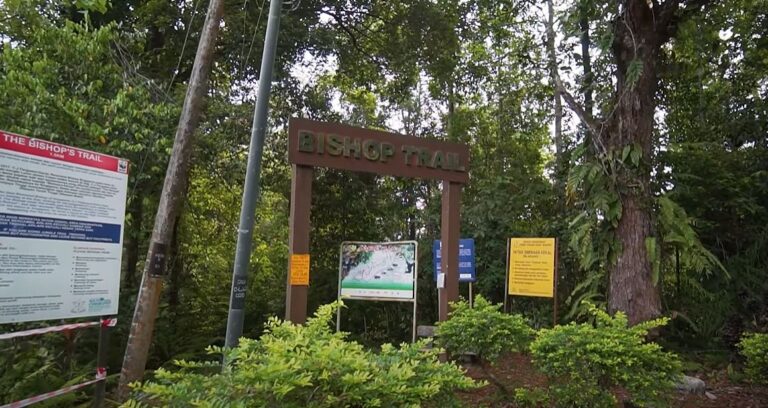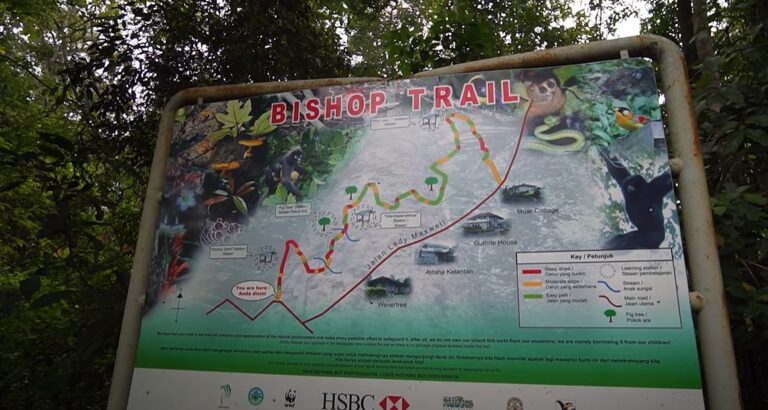 8. Walking Around Fraser's Hill
We've continued our exercise by walking around the town in Fraser's Hill, and take some photos while enjoying the weather and the view.
One thing we love about Fraser's Hill is the cute vintage colonial buildings, like the post office and police stations, which are still functioning up till today. They were built about 100 years ago, 1919 for the police station for example.
There's this spot where you actually get to stand between the border of two states, Selangor and Pahang, which we had to take a picture with!
During the weekends, vendors would set up stalls selling snacks along the the golf course areas.
Most of the attractions on Fraser's Hill uses cash. If you're running low on hard cash, do not worry, you would be able to find an ATM to withdraw your cash from the Maybank Branch located at Shazan Inn near the town area.
Around Fraser's Hill, there are lots of gardens and picnic spots. We do enjoy walking along the golf course area.
There's also a food court here in Fraser's Hill called the Food Garden. You can find a lot of local food choices over here and they're all pretty affordable. 
This is probably one of the biggest playground areas in Fraser's Hill, right next to the food court. There's a little mini golf area where you can rent a mini golf set for RM8.
9. Breakfast at Hamzah Restaurant

After our morning hike, we've stopped by Hamzah (Kedai Makan dan Minuman Hamzah) for breakfast. This little spot is right beside the mosque, Masjid Sultan Mahmud. 
What we've ordered:-
Nasi Lemak with Ayam Rendang
Nasi Lemak with fried egg 
Horlicks drink (hot)
Total Bill including drinks – RM13 (for 2 pax)
10. Allan's Water - Paddling and Fish Feeding
Next, we've went to a lake called Allan's Water for paddling and fish feeding.
We rented a paddle boat for RM10 which gave us 15 minutes to enjoy the serene surrounding of the lake while pedaling.
Over here you can buy some fish pallet to feed the fishes, and apparently there were a few cute ducks hanging around the lake too! These fishes were really well fed and they're expecting food whenever they see human passing by.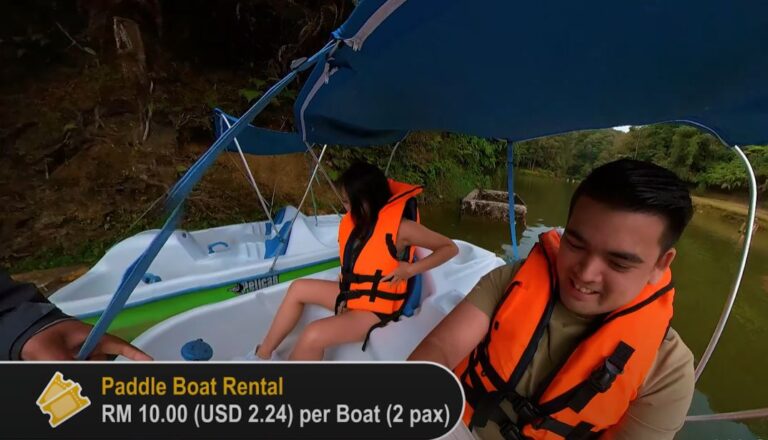 11. Fraser's Edible Garden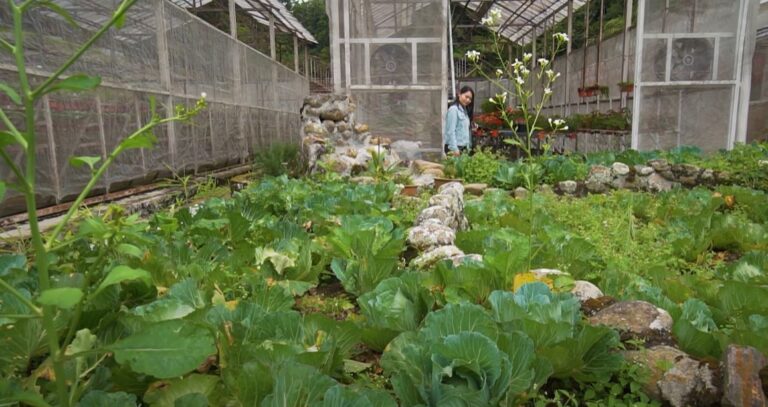 Right next to the Allan's Water is this little farm that you can actually buy some vegetables. There are flowers and strawberries here too. We've decided to buy some radish and cauliflower, and requested the seller to let us pluck our own vegetables.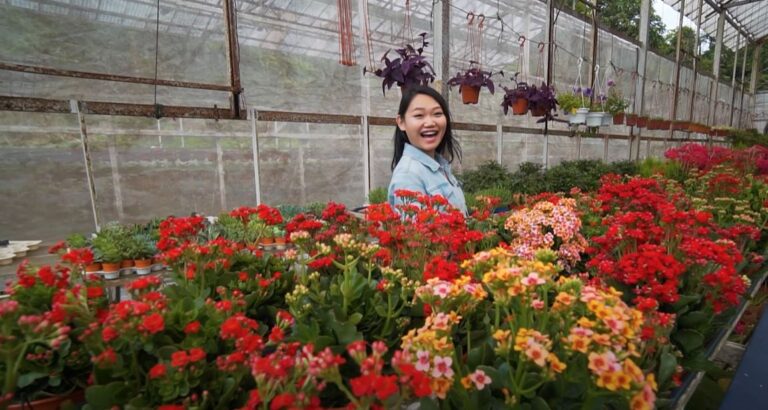 This was our first time harvesting radish and cauliflower, which was really cool, giving me Harvest Moon moments!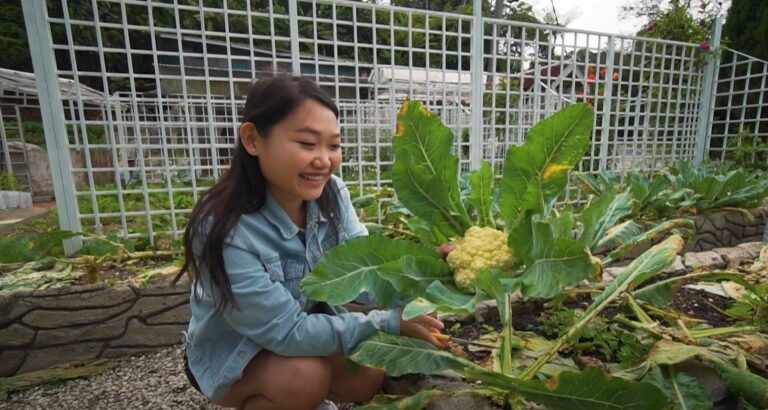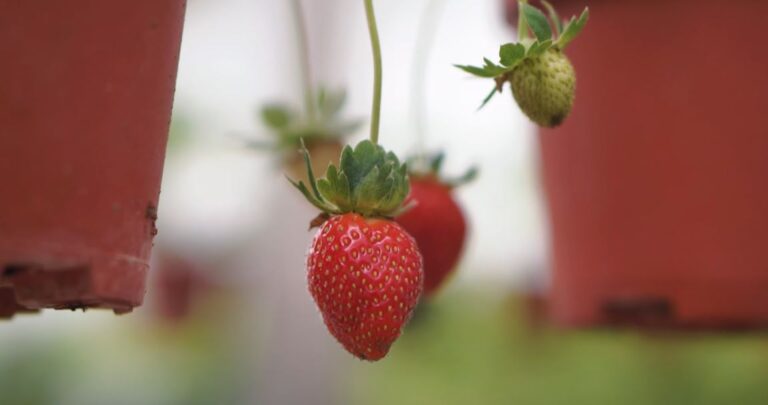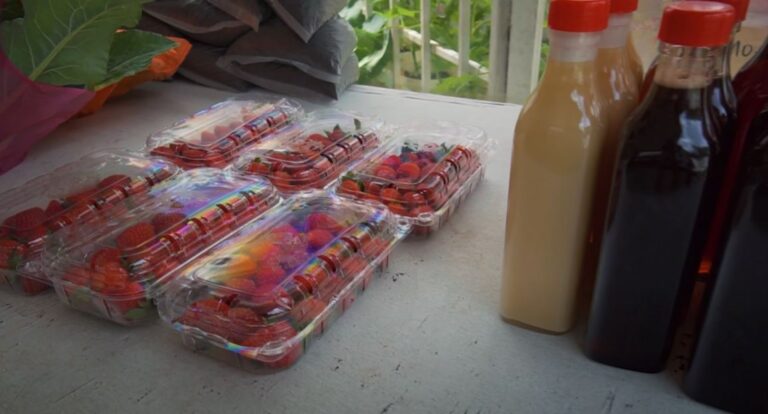 12. Aida Daniya Restaurant and English Teahouse
Time passes real quick and it was lunch time! We've tried to go to the restaurant where we originally wanted to go the day before (Friday), and was glad it's open today, Saturday 🙂
This restaurant is called Aida Daniya Restaurant and English Teahouse. It could get really crowded during the weekends and school holidays as this place is pretty popular.
One of the reason is because of the lovely view while you get to sip down on your tea and take a bite of your scone. The food is pretty decent, we've ordered a tea set for one, it comes with two scones, strawberry jam and cream. We've also got the Spaghetti carbonara with beef and strawberry juice.

It's very common for cyclists and bikers to come up to Fraser's Hill.
13. The Paddock - Horse Riding
After our lunch, we've headed to The Paddock for horse riding, which is another thing to do here in Fraser's Hill.
Horse riding was fun, we didn't expect how tall it was.
14. The Paddock - Archery
At The Paddock area, there is also an Archery Range, where we test our Archery skills and gauge our Hunger Games survivability. (Suffice to say, we will not survive :P)
For our last stop, we went to the Glasshouse, which is another popular spot in Fraser's Hill. We've took countless photos because the place was so beautiful. We ordered some dessert, highly recommend the Lemon Poppy Seed Cake, and the Matcha Cheesecake is good too. They sell succulent plans here as well. 
After that we've make our way back to Kuala Lumpur, so that's concludes our 2 days 1 night trip to Fraser's Hill.
How to Get to Fraser's Hill
The journey to Fraser's Hill takes about 2.5 hours from Kuala Lumpur. The only way to get to Fraser's Hill is by road via private vehicle. We did read online that you could take a taxi up to Fraser's Hill, but we're not too sure about that.
There are basically two routes to get to the top of Fraser's Hill:
1. from Kuala Kubu Bahru
2. from Bentong
Where to Stay in Fraser's Hill
There isn't much option when it comes to accommodation in Fraser's Hill. You'll find homestays, inns, resorts, and Airbnb here, but don't have too high of an expectation as there aren't any fancy hotels up here. We stayed in an apartment at Fraser's Silverpark Resort.
It was a private property, so we did not take any photo or video in the apartment. There are other apartment/homestays within Silverpark Resort which were really beautifully decorated such as Colonie Luxe 1121 Fraser's Hill which could accommodate up to 10 people.
Location: Fraser's Silverpark Resort
Address: 143, 422, Bukit Fraser, 49000 Fraser's Hill, Pahang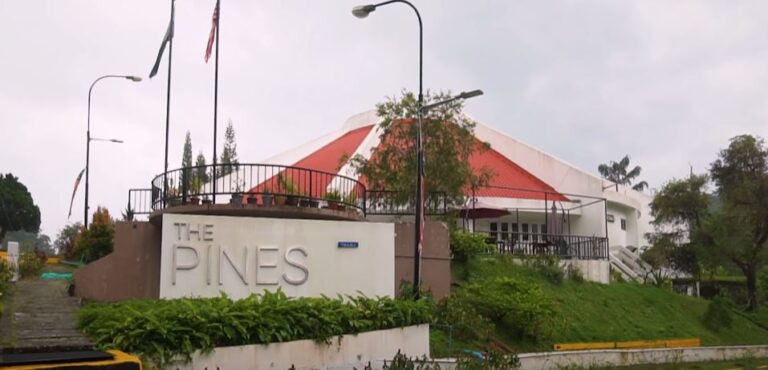 FRASER'S HILL ( BUKIT FRASER 福隆港 )
Location: Bukit Fraser, Pahang, Malaysia
You may also like to read our other post
Email: Puriandsue@gmail.com