Vertigo Bar at Banyan Tree
"When you're at the 59th level,
you can enjoy an
almost
full 180 degrees view of
the Kuala Lumpur skyline with
Petronas Twin Towers
shining the brightest"
Vertigo Bar is one of the top rooftop bars in Kuala Lumpur, and its main reason is the spectacular view of Kuala Lumpur. This bar sits right at the top of the Banyan Tree Kuala Lumpur which is a pretty new hotel that has only just opened its doors back in 2018.

In this post, we're going to take you to this highest rooftop bar in Kuala Lumpur.
Entrance Fee & Reservations
Vertigo Bar doesn't require any entrance fees.
Since Vertigo Bar was a popular spot, we were anticipating a crowd and decided to make reservations in advance. In hindsight, it was actually the right thing to do as the bar was full of guests on the night we've visited.
When making reservations, there are 2 timeslots to choose from: 6pm-9pm or 9pm-12am. 6-9pm would be great if you want to watch the sunset.
There are 2 ways to make reservations.
First is through the Banyan Tree website which will direct you to TableApp.com to make a booking. This method would require an upfront payment of RM100net per person that will be used as a credit against your final bill.
The second method is to call or chat directly with Banyan Tree KL to make your reservations. We actually did this and it didn't require any upfront payment whatsoever. But please do check with the host or hostess in advance if booking fees apply.
One tip, sometimes the TableApp may indicate that the bar is fully booked but you may still have a chance to make reservations by contacting Vertigo directly. This actually happened to us and we still managed to secure a reservation.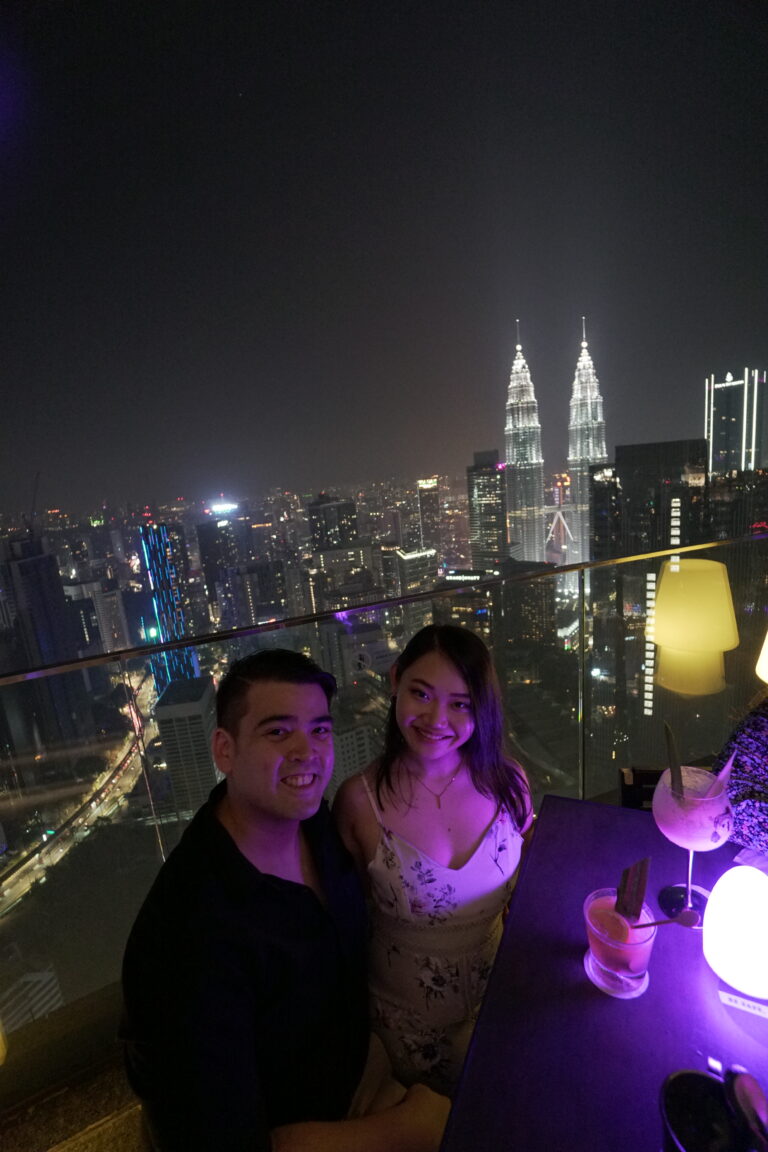 Just as most bars, the dress code requirement is Smart Casual.
For convenience, we actually took a GrabCar from our hotel, Ascott Kuala Lumpur to the Banyan Tree. The plan was simple: to have a little something special to celebrate our freedom after so many months of lockdown.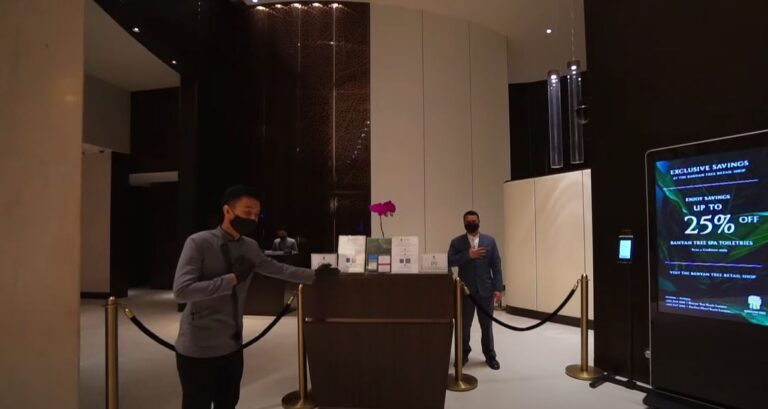 Once arrived at Banyan Tree, there was a doorman waiting to welcome you and I have to say the staffs here were all very friendly and accommodating. Meanwhile, the Vertigo Hostess actually called me to check on my reservation and if I was arriving on time. 
Check out that awesome flower art!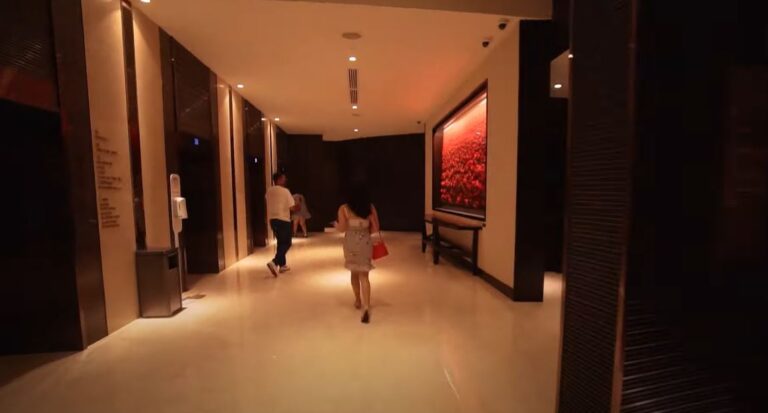 To get to the rooftop bar, you'll have to first go to the 58th floor which is where the Horizon Grill restaurant is.

Once you're up there, you've got to scan in the QR code again and make your way up to the 59th floor.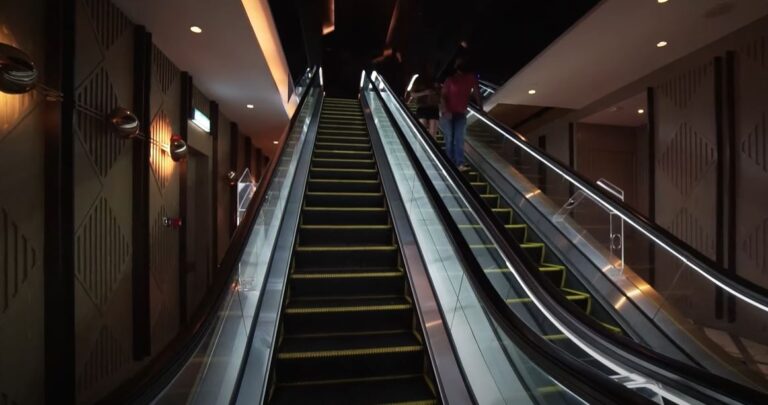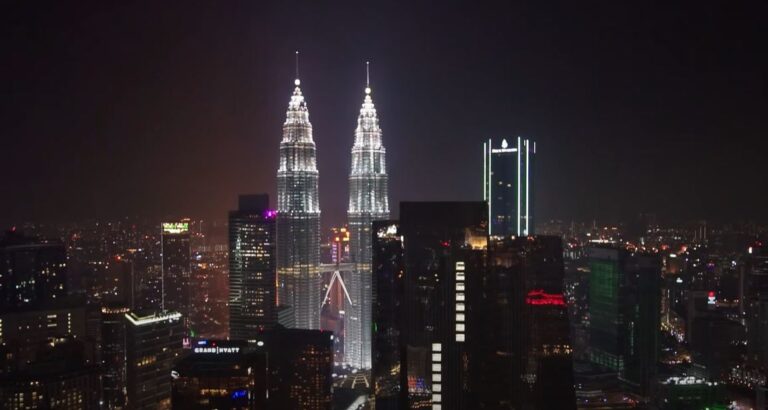 Our Experience at Vertigo Bar
We reserved a table for 4 and just take a look at that breathtaking view.
There's a 180 degree view of the Kuala Lumpur skyline and that amazing Petronas Twin Towers shining in the centre. 
If the sky is clear enough, you could even see a glimpse of Genting Highlands in the distance.
And at the far left corner, you can see the Merdeka 118 tower which is set to be the tallest building in Malaysia once the construction is complete in 2022.
Vertigo has both indoor and outdoor seating. We weren't allowed to film further than we were sitting but here's basically what it looks like. 
There's a bar inside with some standing tables around. And this area is mainly used if it's raining or if all the tables outside are fully occupied.
Overall, the vibe here was pretty chilled. Though the DJ was playing some pop songs which didn't really match the atmosphere, but at least it wasn't too loud and you could easily have a chat with others.
Vertigo is perfect for a date or a casual outing with friends. 
It does get a little warm outside if the wind doesn't blow. 
The price range for drinks starts from RM22 for a can of coke, RM30 for a draught beer, and around RM48 for a cocktail, which is pretty average for bars in Kuala Lumpur. Do take note that these prices may still be subject to sales & services tax.
We went for a couple of cocktails, the fruity variants being our favorite preference. 
Prices for food starts from RM52 to about RM168 for a wagyu beef spaghetti bolognese. You could also ask the waiter for some off-menu snacks. We've got a serving of fries to go with our drinks for RM19 which wasn't on the menu.
There are also a few bottle packages that you can check out as well. You may be able to find their menu on their website.
Overall, the KL city view is undeniably beautiful, however the vibe was a little flat. Snacks and drinks were okay, not the best especially for the price. We also found out that the washroom has some spectacular views but we'll let you find that out yourself when you visit this bar 😉 
1. Hawaiian Elyx – RM52
2. Moscow Mule – RM48
3. French Fries – RM19
4. Akashi White Oak (Whiskey) RM61.32
Total Bill including SST = RM191.14
You may also like to read our other post
Email: Puriandsue@gmail.com